"…Where are the fields, where are the bushes?..."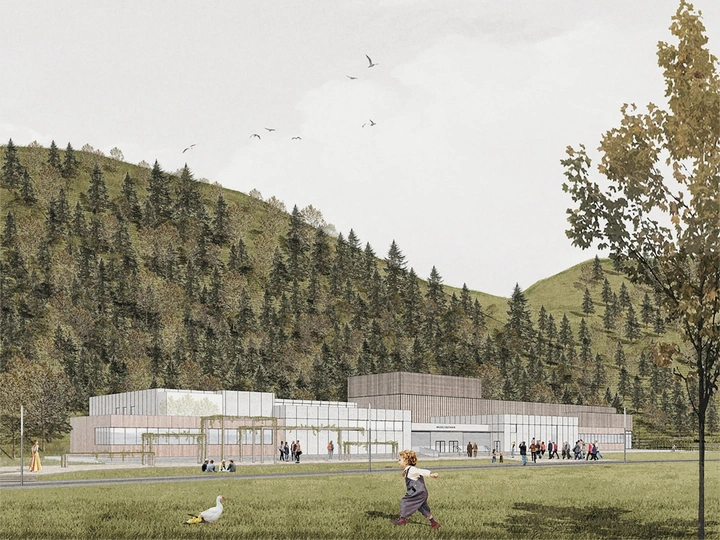 The Botanical Museum in Prishtina: on the necessity of protecting the Kosovar flora
---
Erona Bexheti & Edmond Drenogllava
Prishtina, Kosovo
Links
Team members
Erona Bexheti
Edmond Drenogllava
Field of work
Architecture, Urban planning, Research
Project category
Rural spaces
Project submitted
2022
Two young architects and researchers who graduated with Master's degrees at the University of Prishtina, Faculty of Architecture. Erona is particularly interested in the topics of Urban Health, and Environmental Policy and Planning, while Edmond's focus is centralized on the Radical Architecture Philosophy. The Botanical Museum in Prishtina was awarded among the four best architectural projects in Kosovo in 2022 and was presented at the International Conference SHARE Prishtina 2022.
---
Kosovo represents 2.3% of the entire area of the Balkans, however, in terms of vegetation, it represents 25% of the flora of the Balkans and about 18% of the European flora. Unfortunately, our country's distinctive vegetation has been given little recognition and relevance. Over the years, rampant construction, seemingly forgotten by any urban planning, has been transformative for Kosovo. Due to globalization, capitalism, and contemporary technology, sometimes even pushed by the hand of the architect, certain plant and animal species have disappeared forever, some are on the verge of extinction, while visible forest surfaces have been degraded or are in permanent danger of deterioration.
Born and inspired by nature, the concept of The Botanical Museum in Prishtina derives from comprehending and studying the local flora, the variety, and uniqueness of which should be preserved and promoted. This project traces the origins of an organic-based design ethic and isolates the common principles of architecture in which the architect understands the environment, not only in terms of physical science but also in both, a metaphysical and poetic sense.
The main goal of this project, apart from protecting the local plants and endangered species, is to create a museum of greenery and nature that will allow people to study the habitat. At the same time, this museum will serve as a research center that promotes scientific research, extends the public interest in plants, and spreads the achievements of botany.
We aim to inspire visitors to become observers, hence preserving the diversity and complexity of experience and understanding. The role that the senses and emotions play in our architectural impression is emphasized through design and the building itself is perceived as an object of emotional experience. Nature, on the other hand, provides the ultimate metaphor, in form, sound, sight, and scent, therefore, creating a place detached from the city noise and traffic.