Hanging Gardens - Reimagining Steel Water Towers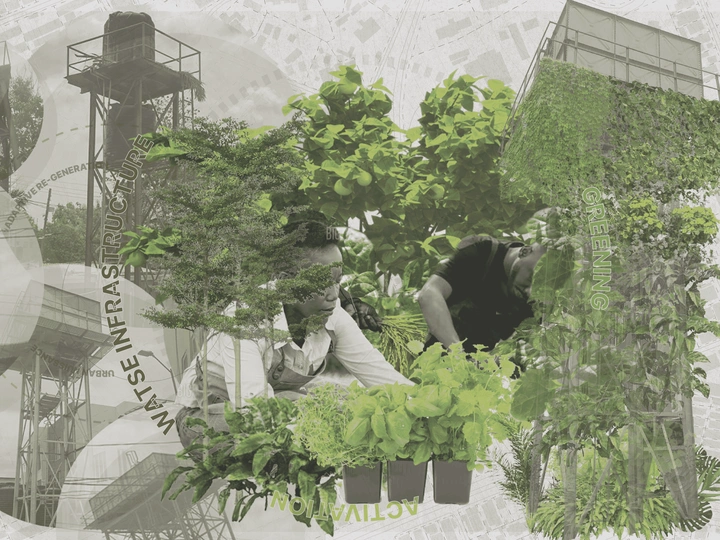 Transforming underused steel water tank structures into vertical farms to reduce food scarcity, improve air quality, and promote urban sustainability.
---
TEFO Collective
Lagos, Nigeria.
Links
Team members
Olatunji Oluwafemi Oni
Field of work
Architecture, Design, Landscape architecture, Ecology, Research
Project category
Urbanity
Project submitted
2023
TEFO Collective is an operative cluster composed of architectural and design consultants (Olorunfemi Adewuyi, Olabode Fakorede), a Civil Engineer cum Sustainable living entrepreneur (Effiom Nyeh), and a Real Estate and Construction Management student at Metropolia UAS, Finland (Olatunji Oni). The team's experience in built environment systems and sustainable living provides a unique set of skills that are passionately applied to Environmental systems, particularly, the team is currently experimenting with waste architecture resulting from failed governmental systems in Africa. Personal governance leaves urban dwellers to cater to their needs. means of its members to propose a green solution to the various sustainable development challenges faced by Lagos, the largest. The proposed solution uses Lagos as a take-off point transforming an informal citizen-led water resilience strategy (steel overhead water tanks) into an urban hanging garden thereby greening the urban space and promoting fresh air and food security.
Olorunfemi has an MSc degree in Architecture and is an EDGE-certified green building professional with over 6 years of experience in architectural consultancy, research, and development of objects. He is also involved with further research into water architecture and post-colonial architecture and art through Omi collective. Olabode is the principal architect of Collaborating Creatives Workshop (CCW), an architectural studio that promotes the development of user-centric and environmentally friendly buildings using local solutions and synthesized user and environmental data. Effiom is a Civil Engineer and CEO of Ekondolife, a landscape, and green intervention firm that aims to transform living, work, and communal environments by creatively introducing plant life. Olatunji is an Architect with a flair for developing ways to promote the well-being of building users and optimize the overall performance of built spaces through research and innovation.
---
Rapid unplanned urbanization often results in common urban development failures such as pollution, congestion, food insecurity, energy insecurity, and the prevalence of an informal urban infrastructure. Lagos, the largest urban center in Africa, suffers all these pitfalls of urbanization and more. As a resilient response to a failing urban system, urban residents tend to create individual solutions to meet their basic needs rather than reliance on public infrastructure.
One of these responses is the adoption of subsistent water sourcing and storage where many households must source and store water individually rather than being connected to a central public water supply system. Less than 20% of households are connected to the public water supply system making them rely on surface or submersible pumps to draw underground water through wells or boreholes to be stored in elevated water tanks and connected to buildings. As expected, this creates a cityscape littered with elevated water tanks, mostly of steel support structures.
With the goal of promoting sustainable development in Africa, this team proposes a creative intervention that transforms these underutilized steel structures into vertical farms. This solution repurposes seemingly existing horrid structures into "urban green towers". This solution supports at least 6 of the United Nation's sustainable development goals while reducing the urban heat island problem, promoting better air quality and food security, increasing carbon capture in urban areas, and reducing the pressure on already scarce arable urban land.