The Greenhouse Experiment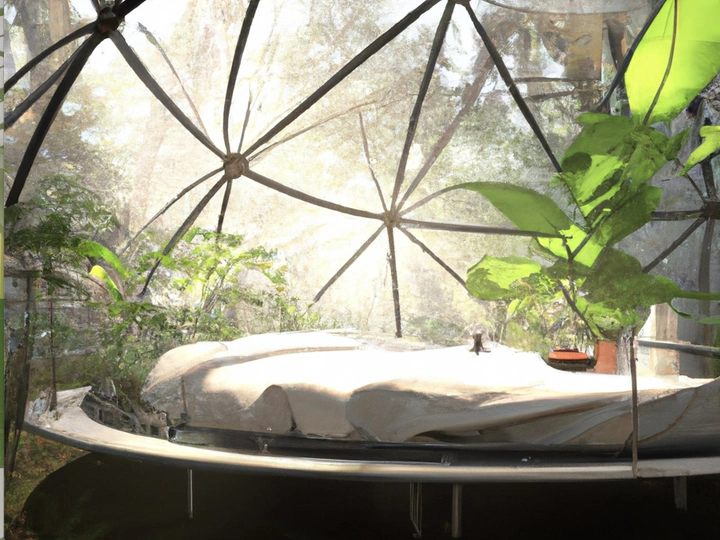 To question and research the idea of living and working in an utopian greenhouse.
---
Studio Mercedes
Basel, Switzerland
Links
Team members
Ciaran Grogan
Sophie Mercedes Lardon
Field of work
Architecture, Design, Visual Art, Multimedia, Research
Project category
Raising awareness
Project submitted
2023
Sophie Mercedes Lardon finished her studies (2017) in Performance Design at Central Saint Martins London, where she focused on interactive spatial design and audience reaction and participation. 
launched in 2019, Studio Mercedes workes cross-disciplinary from interior to exterior, installations and hospitality design and devising. Whilst, conceptually, the studio focuses on the amalgamation of spacial contexts, compositions and immersion, the studio objects derive their inspiration from biomimicry and circuit systems of nature.
---
The greenhouse experiment 
The studio's fascination with nature lies, within its fundamentality. Fascinated by the endless learning of systems that are implemented in our human society, the studio has set its focus, on the amalgamation of design and biomimicry. In this experiment, we offer a creative and playful approach to climate crisis issues and have created a Buckminster-esk studio home where nature takes a front seat and research and production thrive. 
The living quarters, shared kitchen area and open studios comprise a three-domed structure, which is climatically variable. Its exterior surface is made of algae film and solar panels that generate the electricity needed. The kitchen is a semi-communal space. Part-indoor, part-outdoor, it caters for collective cooking and eating, adjoining vegetation and a kitchen garden for growing and composting. The vegetable garden has a rainwater harvesting system that collects and filters. the largest dome is a workshop and research area, here different masters of craft meet, develop, test and explore. 
Utilising the information gained from plant life and then implementing it into designs, will further new cross-section areas of development for the future. In this vast playground, there is a possibility of passing on and creating collective information. 
By living side by side with nature, a solid symbiotic relationship forms between inhabitants and plants, one that taps into ancient instinct and can recentre our somewhat forlorn connection. This shift of perception makes nature a mighty stakeholder sociopolitically. These environmental shifts are already happening in part, the jurisprudential theory that allows nature inherent rights, giving the perception of nature breathing living and somewhat humanizing. If nature has emotions doesn't that absorb into the objects we design, the buildings we build and the realities we create? 
One living organism growing inside the green terrain of a looking glass.