Knitting Resilience, Growing Food in Communities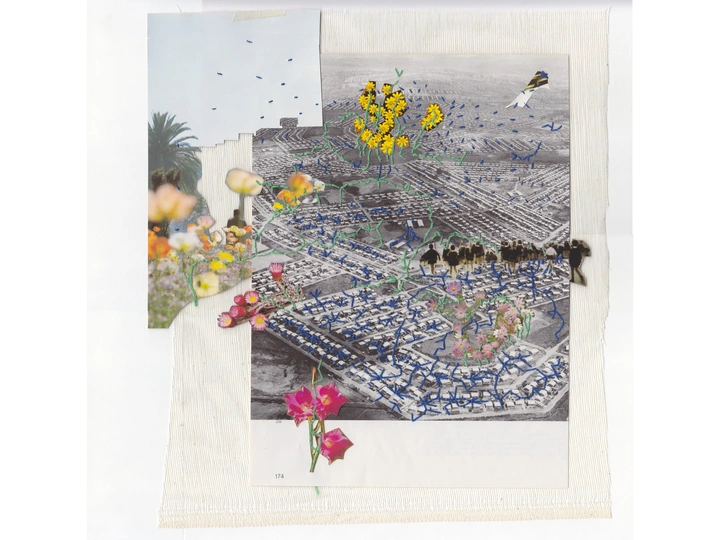 A call for action to greet your neighbour, mend your fence together, share compost, grow food, exchanges tales and stitch a better community together.
---
Amélie de Bonnières
Nantes, France & Cape Town, South Africa
Links
Team members
Amélie de Bonnières
Field of work
Architecture, Design, Urban planning, Ecology, Research
Project category
Urbanity
Project submitted
2023
Amélie de Bonnières is an architect and educator having lived equal number of years between France and South Africa.
Her work involves collaborations with architectural practices mainly in the field of museum exhibition design for cross-cultural projects, and academic institution as an educator within University of Cape Town most recently leading the second year design studio on ways of living in informal communities or through research-based workshops.
Her research emanated from an interest in borders and boundaries, circling around the notion of identity by differences, nourished by living abroad and the desire to understand others. Informed by ecology and society, the research jumps between ideas but keeps listening to bodies, experiences and multiple narratives.
Her interests are related to a soft-er architecture weaving individual stories and spatial experiences to care for our environments.
She holds a Master of Architecture from ensa Nantes and a MPhil in Research and Architecture from ensa Paris La Villette.
---
The project, "Knitting Resilience, Growing Food in Communities," is a visionary urban and architectural narrative that embraces resilient systems theory to create stronger, interconnected neighbourhoods. By prioritising social components, such as neighbourly interactions and urban agriculture, we aim to cultivate a more resilient community.
Through the establishment of community gardens and small-scale food production, we seek to foster neighborly engagement and shared responsibility for the environment and local food security: surplus produce can be shared or sold within the neighborhood, fostering a sense of interdependence and social cohesion. The project will facilitate a micro-economy built on above production, encouraging resource-sharing and cooperation, which will enhance people's adaptability to the climate crisis.
Drawing parallels with fabric weaving and stitching, our project will navigate the complexities of inserting social structures within existing and unbending architectural topologies. We will revitalize communal spaces and break down barriers, creating a cohesive urban framework that celebrates diversity and inclusivity.
Through this lens, the importance of touch as both embodiment of making and sensory informant cannot be underestimated. Engaging with nature through urban agriculture will nurture a deeper connection between individuals and their environment, instilling a profound sense of belonging and care.
Reading as a manifesto, the project, seeks to stitch together a stronger community that thrives amidst urban challenges and embraces sustainable practices. By promoting social interactions and reimagining some of the built environment, this project envisions a future where communities are tightly woven, resistant but flexible, and empowered to confront the uncertainties of the modern world.