The Black Sheep of the Wool Industry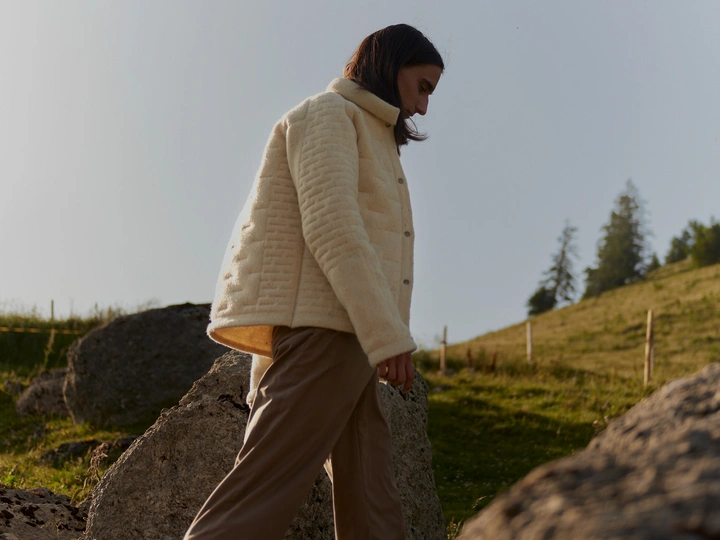 Investigating the possibilities of undervalued European sheep wool by exploring a new production process: automatic felting.
---
Carolin Schelkle
Arles, France
Links
Team members
Andrea Anner
Thibault Brevet
ECAL L'école cantonale d'art de Lausanne
Carolin Schelkle
Field of work
Design, Ecology, Curating, Communication, Research
Project category
Material tracking and reuse
Project submitted
2023
Carolin Schelkle is a German Industrial Designer and Material Researcher. She holds a Bachelor of Arts in Product- and Communication Design from the Free University of Bolzano and a Master of Product Design from écal (Ecole cantonale d'art de Lausanne).
Her work is led by exploring the life of products and raw materials and is driven by curiosity, field studies and cross-disciplinary research. The investigations cover a broad range of typologies, including materials, processes, products, spaces and exhibitions, materialised through extensive experimenting, sampling and prototyping. The research results either in the record of a process itself or in a commercial product or half-fabricate, encouraging a deeper understanding of the materials and products that surround us.
Her interests lie in a deeper understanding of the ecological, historical, political and social forces shaping the discipline of design nowadays and in the future, investigating material and waste streams, the way we can use and transform them as well as exploring the complex relationship between design and the environment, between materials and ecosystems.
---
When synthetic fibres began their rise, wool steadily lost importance and is now a marginal fibre on the market. Large amounts of raw wool which used to be a source of income for sheep farmers have turned into waste that is either burned or ends up in landfills. With increasing interest in the sustainable use of natural resources, wool should be reconsidered as an underrated and underused renewable resource, worthy of better exploration. This project investigates how to use European wool by analysing the agricultural context, the textile industry, the unique properties of sheep wool as well as new textile processing techniques.
There are more than 1000 sheep breeds in the world, producing fibres of different colours, lengths, and textures. Merino sheep have very fine fibres, coming from Australia, New Zealand and South Africa. In Europe, sheep are mainly kept for their meat, milk and the maintenance of landscapes, not their wool. They produce fibres that are short, long or curly with all sorts of colours. Sadly, since this wool is not reaching the high demands of the textile industry, it is underused, undervalued, and underpriced. During the project, several sheep farmers and wool collection sites were visited to better understand the current situation of European wool, the logistics as well as the current processing. Since spinning a yarn is the most energy-consuming step in processing fibres, the project explores the technique of needle felting. With this method, needles are used, which are equipped with little hooks, matting the fibres together. Using this principle, textiles are made directly from fibres, not yarns. This saves numerous production steps, leading to lower energy consumption and higher traceability. The research is resulting in a jacket out of 100% European sheep wool, highlighting the unique benefits of the fibre by using the technique of robotic needle felting. In this way, European sheep wool is turned from a burden into a valued raw material.