Rua das Terras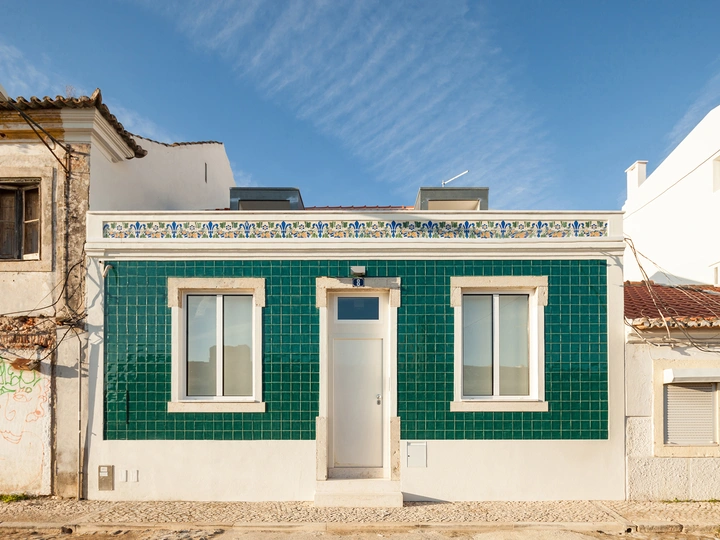 Conversion of a old house in Belem, keeping the front facade and the memory of the neighbourd and reconverting the interior in to a modern house.
---
Atelier Caisa
Lisbon, Portugal
Links
Team members
Guilherme Bivar
Marta Pavão
Field of work
Architecture, Urban planning
Project category
Renovation
Project submitted
2023
is an architecture and urbanism studio based in Lisbon since 2013 and founded by the architects Guilherme Bivar and Marta Pavão, after 6 years of different professional experiences outside Portugal. It has carried out projects of different scales and nature, from rehabilitation and new construction, to the design of public spaces, for private and public clients. By understanding the multidisciplinary of architecture, it intends to establish itself as an atelier open to collaborations and partnerships.
---
Requalification and expansion project of an existing house, set in belém neighborhood, in Lisbon, Portugal.
In the existing plot, there was a one store house, a backyard and the ruins of an old warehouse.
The project had the main goal of rehabilitating the existing house and expanding its total area through the addition of an upper floor.
The existing front facade (characterized by a higher frieze of historical tiles) was preserved and treated. There was a free reorganization of the internal layout of the ground floor, to hold the social program of the house. The upper floor holds the private house program – rooms.
At the backyard, there was a topography arrangement , in order to optimize the relationship between the house and the outdoor areas. The old warehouse was converted into a walled garden, with a small storage at one corner.
From the street entry to the walled garden at the back, the house develops in sequential levels, in order to reduce the significant difference of hights, at the same time promoting a smooth transition between inside and outside. The house is south-west-north-west solar orientation and is intended for a family composed of a couple and three children. The house has a South-North solar orientation and it is intended for a family composed by a couple and three children.
In the front facade, it was decided to use the green tile, recovering the plasticity of the typical facades of that neighborhood. The main interior covering materials are; wood, sanded and varnished cement, tile and glass mosaic.