Contact Line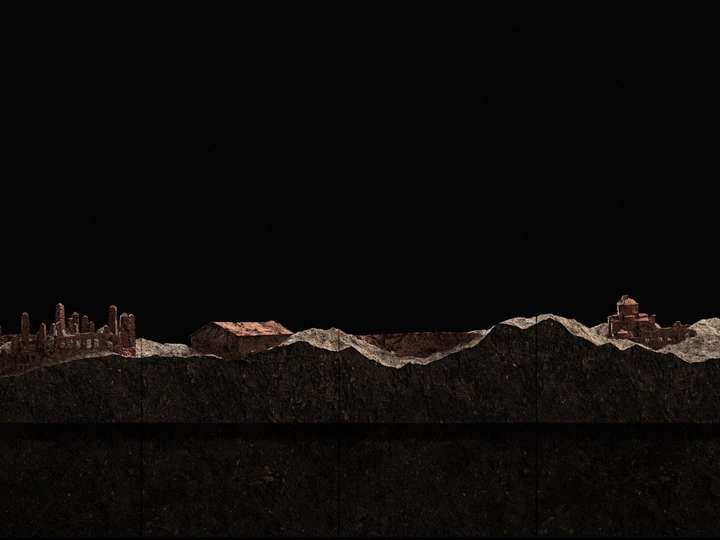 Reimagining Boundaries, Building Future: Empowering Society Through Architectural Dialogue
---
Contact Line
Milan, Italy/ Stuttgart, Germany / Paris, France
Links
Team members
Nodar Dekanosidze
Aleksandre Gachechiladze
Tamta Jugashvili
Ana Tevzadze
Field of work
Architecture, Urban planning, Visual Art, Multimedia, Research
Project category
Raising awareness
Project submitted
2023
We are a group of experimental architects from Tbilisi, Georgia, based in Milan, Stuttgart, and Paris. While we have collaborated on several projects, we have also taken our unique paths, with some of us sharing our knowledge through teaching and engaging with the architectural community at events such as Tbilisi Architecture Biennial, Milan Design Week or collaborating with renowned architecture studios in Italy and Switzerland.
As architects with a similar background from Georgia, a country where the discipline of architecture is rapidly developing, we are continually driven by our passion for research, development, and analysis of various architectural solutions. We first crossed paths at Politecnico di Milano while pursuing our master's degrees. This common background has sparked an ongoing process of comparison between the structured constraints of the European practice of doing architecture and the more flexible yet chaotic approach prevalent in Georgia.
We are passionate about engaging in critical discussions and exchanging opinions with like-minded individuals who share our zeal for pushing the boundaries of architecture. Embracing the power of community, we value the collective intellect and diverse perspectives that enrich our understanding of the built environment. In our pursuit of critical ideas and community engagement, we actively seek out opportunities to participate in conferences, symposiums, and architectural gatherings. We welcome collaborations with fellow architects, urban planners, and interdisciplinary professionals, recognizing that a collective effort can bring about the most profound and positive change.
---
The project "Contact Line" draws inspiration from reflecting on Georgia's recent history, marked by conflicts, socio-economic unrest, and political instability. It aims to meditate on creating a sustainable future and explores the role of architecture as a driving force in shaping the future.
When building an inclusive society, it is important to understand the events of miscommunication that took place in Georgia's recent past. Observing the cases of conflict in occupied regions that were heavily influenced by Russian imperialistic interests one notices that the artificially established dividing line is incapable of completely separating the people.There are objects close to the borderline where the desire for communication in a divided society is materialized. They represent architectural monuments of national importance, intangible customs, geographical places, and ongoing projects, which are considered artifacts of collective memory. They carry cultural, religious, or economic implications and play a key role in connecting distanced members of society.They transform the so-called Administrative Boundary Line into the Contact Line.
The project is a continuous architectural model of the so-called 'Administrative Boundary'.The landscape - where the key architectural objects close to the line are placed. The model itself is a monumental table, its symbolic continuity originates from the ancient period and has deep roots in Georgian culture. The phenomenon of 'Supra' - an intangible cultural monument - represents a place where different ideas coexist. The table becomes a place of communication.
The longitudinal table divides the space into two parts. However, it is possible for spectators to transform it into a contact line.Therefore it becomes a place for communication and negotiation.
In conclusion, the project emphasizes how architecture can bridge artificial divisions through meaningful interventions by fostering a dialogue and creating a resilient community.