LIBERATION FROM LANDFILL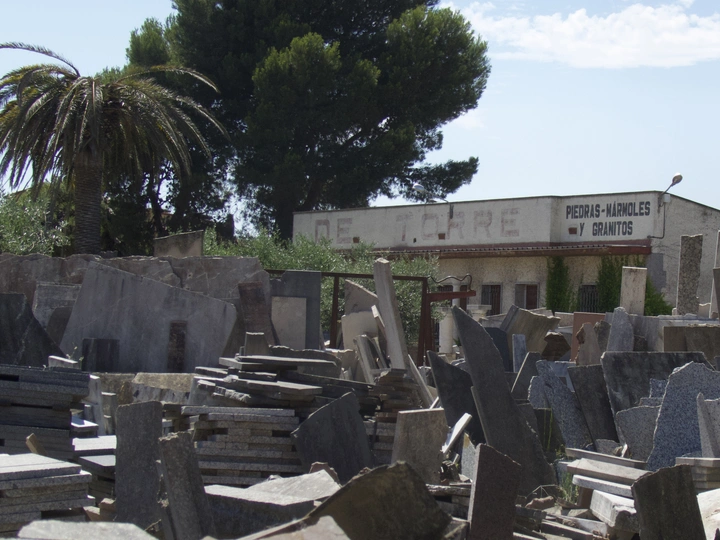 A mission to rescue & re-use thousands of square meters of usable stone, preventing demolition and changing perceptions of 'waste' materials.
---
Leleni Studio
Barcelona, Spain
Links
Team members
Alessandra Monarcha
Charlie Paddick
Field of work
Architecture, Design, Ecology
Project category
Material tracking and reuse
Project submitted
2022
A collaboration between Alessandra Monarcha and Charlie Paddick that started at the beginning of 2022 in Barcelona, dedicated to re- use of building materials in architecture and design.
Alessandra Monarcha - architect. 8 years working across Europe and Brazil developing a holistic understanding in the challenges of international, urban and architectural projects.
Charlie Paddick - designer. 8 years experience with with London's leading architectural salvage and design practice, Retrouvius.
---
"Liberation from landfill", the first project on our journey, is a unique situation.
1 March 2022, a historic stone yard in Catalunya was 2 weeks away from demolition when, at the last moment, Leleni Studio negotiated a short term lease to prove the potential re-use of over 2000 m2 of marble, granite, travertine and fossil limestone.
Throughout 4 decades of business Alvaro De Torre saved and stored all of the leftover materials which stonemasons usually regard as waste and dispose of on a monthly basis.
After the 6 months initially agreed, progress reintroducing the stone into architecture and design is palpable, but the owners still want to proceed with demolition at the beginning of 2023. Through our work so far we are hoping to delay demolition further and save as much material from waste as possible.
A huge amount of energy and emissions have already been invested to get these materials from beneath the earth's surface to where they stand now.
The vast amounts of stone have already been extracted, cut, finished, transported, re-sized and stored on their journey from the quarries throughout Spain and Europe. The next step needs the right platform to reach an audience with the same values to put re-use in action.
We believe this is the perfect opportunity to raise awareness among professionals and the public about the fundamental issue of waste management in industry, changing how we perceive leftover material and proving the benefits of reuse in architecture and design.
By extending access to the materials and delaying demolition we can identify and create the necessary networks to save and reuse these valuable materials.
Incentivising companies to adopt new practices of waste management to achieve a more sustainable future.
Alongside reintroducing these materials into urban and architectural projects we are developing a design range including lighting, tableware and furniture, using the reclaimed stone as the core design element.