Reviving the Rural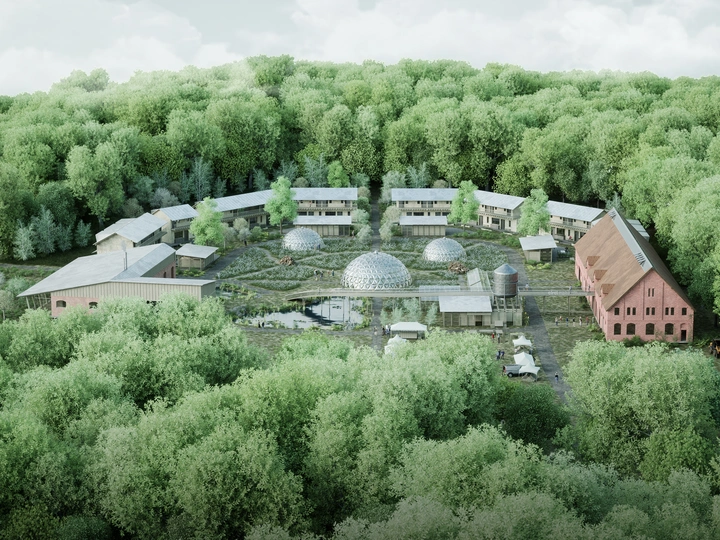 New perspectives for the European Countryside in the circular economy. Regenerative neighborhoods as a force driving local and regional resilience.
---
Michał Kasperski
Wrocław, Poland
Links
Team members
Michał Kasperski
Field of work
Architecture, Design, Ecology, Visual Art, Multimedia
Project category
Rural spaces
Project submitted
2023
I am a young European architectural and environmental designer, real-time 3D artist and entrepreneur, passionate about designing and visualizing better futures!
Born and raised in small town in Poland I finished my Architecture undergraduate in the UK at Cardiff University and after gaining professional experience in top design led studio in Wales, I moved to the Netherlands to pursue my Masters at the TU Delft.
This hyper-local upbringing and widely international experience made me develop and share a unique perspective by bridging the worlds of advanced high-tech and local low-tech solutions inspiring people to imagine and build better, resilient futures in the era of environmental challenges and rapid technological advancements.
At the TU Delft I was infused with an entrepreneurial attitude to architectural practice and explored key themes that now guide my development as a young professional. My solo design practice focuses on regenerative design strategies from product to neighborhood scale, ideas of self-sufficiency and use of bio-based natural materials in construction. These are best manifested in my ongoing research & design project "Reviving the Rural" which examines the role of the countryside in transition towards circular economy.
Alongside that, I founded 'Drip Visual' to explore the power of real-time technology in visual communication and to bring immersive XR experiences of unbuilt futures and transformative ideas to life, enabling me to work with great creatives in Europe and beyond and manage a close team of collaborators.
Some of my achievements include Alwyn Lloyd Travelling Scholarship awarded to top 3 graduates at Welsh School of Architecture and my project "Reviving the Rural" being selected for National Archiprix NL and EU Mies Young Talent Award.
I hope to contribute my passion to regenerative design, future of rural neighborhoods and next generation visual storytelling to great members of LINA community.
---
My design and research project Reviving the Rural asks questions about the future of 83% of the total EU area considered 'rural'. As events of recent years highlighted the need and the urgency for an increased local and regional resilience it argues that the countryside will play a vital role in the challenging transition towards the circular economy.
The project explores new models of regenerative communal living and proposes a revitalisation strategy for economic and social revival of the European countryside.
I initiated it with a study of a farmland I know very well since my childhood which follows the pattern of many similar places across Europe. I started seeking for an alternative model to a gradual decline of existing communities on one hand and uncontrolled suburban sprawl on the other - currently dominating new rural developments.
A model that does not romanticize the rural but proposes a feasible strategy and business plan for development in current times. The idea is to revive the existing rural nodes with high potential through precise architectural and landscape interventions - providing mix of educational, cultural, elderly care and recreation facilities - stimulating local economy and biobased materials production all fueled by most recent technological developments.
The project received wider recognition after nomination for Archiprix NL and EU Mies Young Talent Award and since then I started conversations with initiators of similar projects in the US, Netherlands and Portugal.
I don't want it to stop at the concept proposal – over the coming years I will talk to the local stakeholders and community to first initiate the adaptation of existing buildings for public and event space. The project is a model solution that is open to be adapted to other areas across Europe particularly in Germany, France, Denmark and the Netherlands – so as young designer I would like to collaborate with studios and organizations exploring similar models.