Women in architecture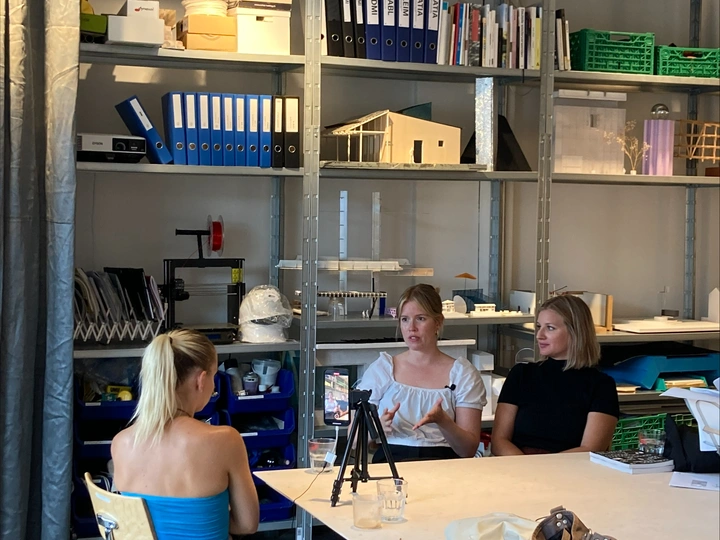 Celebrating women in architecture, by portraying, interviewing and visit them in their local context of Europe
---
Nanna Benedikte Leth
Copenhagen, Denmark
Links
Team members
Nanna Benedikte Leth
Field of work
Landscape architecture, Visual Art, Film, Curating, Communication
Project category
Raising awareness
Project submitted
2023
All spatial practice is equal to political practice. As a young architect, I want to be aware of my responsibility, and therefore I always strive to do projects that clearly resonates with my values, wether it is architecture, art, video-journalism, design or in being a good colleague.
After I recieved the price as Bachelor-Architect of the year 2022, for my project Universal Cliff, designed for people with disabilities, I decided to seek for inspiration outside of Denmark. First at an art school in Iceland, then in several creative collectives in Berlin, and finally on my current journey around in Europe, which was supported by the Danish Arts Foundation. In this period I was an active volunteering architect for Architects Without Boarders, where I was the creative artist behind our pavillon for UIA congress 2023 - a series of drawings explaining one of our recent build projects, A biocentre in Uganda. The biocentre is situated in one of the biggest slums and provides sanitary fascilities for people in a radius of 500 meter.
Here is an excerpt from the Bachelor Architect of the year 2022:
Nanna manages to combine seriousness with play in her way of studying and she does this with an immediate naturalness which seems straightforward, but which is nevertheless only possible because of a great will and effort as a student. Nanna dares to go with her intuition without being 'blind'. She allows herself to be inspired and follow her curiosity, while at the same time managing to reflect and discern pragmatically in her process of developing an architectural project. Nanna's ability to combine pragmatism and poetry, structure and creativity is a great asset both in her work process, but also in the development of innovative architectural solutions. In addition, from her approach to the study and her way of studying, comes a playful, experimental and inspiring impression emerges, which affects the environment in a very positive way.
---
I started Women in Architecture, as a long of finding more new female rolemodels, as well as understanding the role of the architect in several european contexts.
Architecture is a collaboration, and the idea of the genius architect working in a vacuum is pure fiction. With my project, I want to use my European
professional network, and try to gain a greater perspective on the personal narratives, as well as the larger financial and ideological 'scapes' that are across
our national borders. I am interested in how the gender distribution affects the architecture, as well as the working environment. I am interested in hearing how they affect the greats of the future visions. On a global level.
From Bulgaria to Scotland, I have portrayed and interviewed architects in each country. The interviews are honest, vulnerable and showcases sustainable and inclusive thoughts and design solutions. The succes of the project, proves the lack and the need of the feminine rolemodel, that can help address the environmental crisis and its ethical and social implications.
With my project, I have created a greater feminine community, and a starting point for future professional projects across our national borders. I have gained a greater perspective on the personal narratives, as well as the larger financial and ideological 'scapes' that are across our national borders.
With the help of LINA community, I want to expand and showcase all of these architects incredible perspectives in an even larger scale:
- Expand in terms of including and showcase more creative people.
- Expand in terms of using more platforms, medias, exhibitions - analogue as well as digital.
- Expand in terms of things I can't even imagine yet, because I seek to be open, and learn and engage with the incredible partners of Lina Community...