Waste = resource? Try it! Adaptation of Warsaw!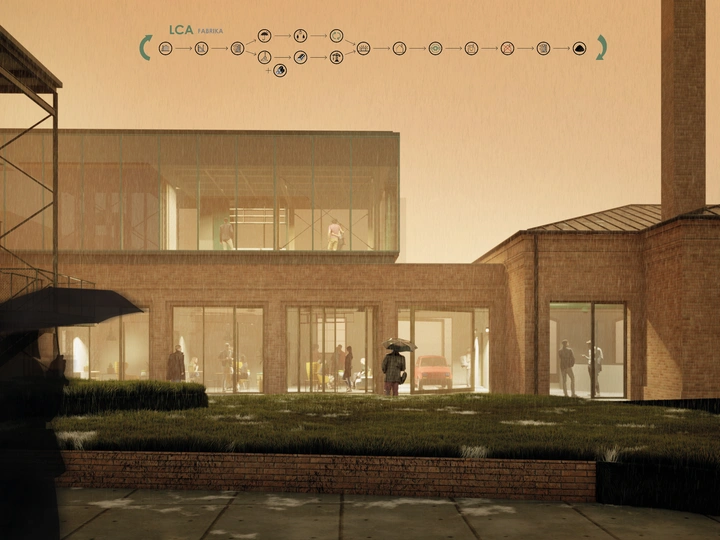 Adaptation of industrial heritage as a catalyst for city change. Smart grid city. Alternative materials from waste = zero waste. Upcycling!
---
Jiří Petrželka
Warsaw, Poland
Links
Field of work
Architecture, Urban planning, Ecology
Project category
Public space
Project submitted
2022
I am architecture student at the Czech Technical University in Prague, member of WA community, founder of "What? Industrial Aussig?", winner of 19 student architectural national or international prizes (urbanism, int, architecture, energy, sustainability) and conference speaker.
Team, supervisors Josef Smola, Eva Linhartová, best mate Kristýna Klůsová
PhD study, I want to build a reference object from waste and recycling materials, self-sufficient as an answer to waste and few resources.
---
Adaptation of industrial heritage and smart grid city as a way to sustainable architecture with zero co2 footprint and zero waste. The project focuses on brownfield sites, which it perceives as attractive locations, and transforms them into a new urban district, which become a catalyst for change in the urban network. The energy crisis and limited resources of materials once again supported my thesis of energy self-sufficiency and efficient sharing of energy in the city. The project perceives the problem of dealing with waste and demolitions as a source of materials. It shows the concept of zero waste, selective demolition, recycling and upcycling on an architectural project from the beginning of consideration to the solution of construction details. It uses the max re-use of materials and objects and passively enlightens society. The main content is the adaptation of an old factory and the new development of variably useful housing, which is built from 98% of recycled materials, alternative materials, waste and finds that there are many prototypes that lack verification or use. Using covid masks, chewing gum, recycled materials, silicon glass from electronics, etc. All of this has applications in the construction. In this way, we reduce limited resources and, above all, actively deal with waste management. Waste is not a problem, it's a resource. I want to build an energy self-sufficient house only from these materials and test it as a prototype. One day the situation "only waste and no resource" will come, we need to be prepared. It is a zero waste solution and an example of the circular economy in construction. Buildings make up 40% of the waste and as an architect I have a responsibility to solve it. The city functions as an organism of elements that influence each other, so I wrote a list of sustainable criteria for each element – transport, educational buildings, events, housing, etc. And dealing with excess and waste is prescribed everywhere!