Architecture of Bulimia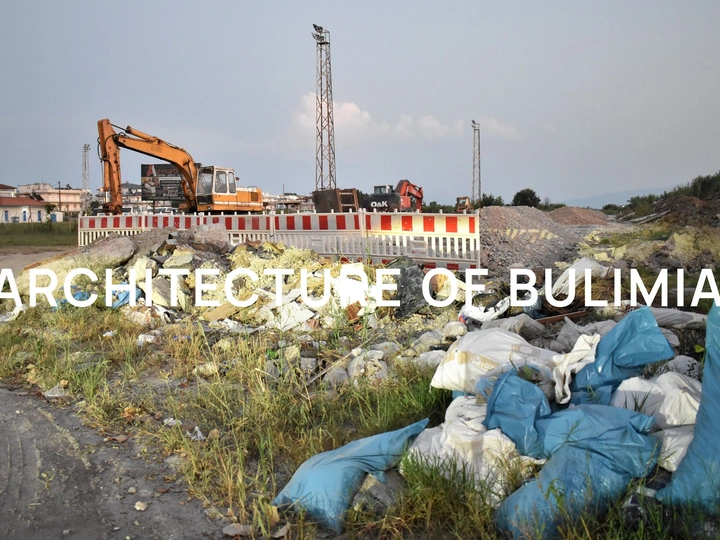 #curate our future, #AI, #global crisis, #healthy cities, #anthropocene, #radical approach, #future heritage, #public spaces #social design etc
---
Eleni Yapoutzidi Karra
THESSALONIKI, GREECE
Links
Team members
Eleni Yapoutzidi Karra
Field of work
Architecture, Design, Urban planning, Research, Other
Project category
Public space
Project submitted
2023
I was born in Thessaloniki, Greece in 1996. I graduated from Architecture at The Faculty of Engineering of the Aristotle University of Thessaloniki – (diploma-master)I would consider myself as a mysterious, critical and emotional type full of playfulness. I love working on the motion of moments in time, accompanied with a taste of radicalness, symbols, life issues and dirty - non montaged things, truly, RAW. Despite I grow up in an ultra-architectural environment ,the truth is that I never saw architecture as others. I never wanted to stay only in the design of a house or an object and be satisfied with this. I always wanted to find out what is behind it and visualize the research behind it. For me, design in general has a deeper meaning. To create experiences, doubts, questions, a revolution! I would define Design as an element with an organic body. It is unrolled in different languages and expressions.
The crises of the last years in my country, Greece, both economic, social and environmental, in combination with the global crises and my personal health issue ,which caused me disabilities that forced me to isolate myself for a long time from collective public activitie etc, influenced many times my thoughts as an architect.In a world that is constantly limited in space, thoughts, etc. for me futurism in architecture nowadays is the revitalisation of the existing built environment , and the introduction of new experiences in our society able to educate them for a better future.My work flirts lot of time with issues related to my fundamental question of the balance between the collective(public) and the individual. I love design with mixed mediums of art (arch drawings, hand sketches,video(filming), sound, texts, paintings etc.). All of these individually have a function within the process of each of my projects. For me architecture is the art of this process of mixing all these elements of art. Architecture is a medium that brings with it many narratives.
---
We have to play an important role in shaping the future,redesigning cities, finding new solutions and facing crises.Manifesto is not to build or visualize another new city by wasting another empty area of our planet to create just cement.Is not about futuristic forms,eco-friendly buildings etc.How can something be considered ecofriendly when it destroys nature itself and just embodies on it nature effects? All this leads to a new kind of architecture, the architecture of bulimia,of challenge and impressiveness!Radical and useful for our future will be when the design embodies the concept of multifunctionality.In this way,both materials and land will be economized and saved.Our planet is suffering from an already built environment. We need solutions to reuse and integrate multifunctionality into existing infrastructure!Lets focus on what we already have and not forget that in every crisis we see that we need open,empty spaces like in the case of fire,epidemic..We must stop satisfying only the image and find solutions that strengthen our spatial culture. Through our design we have to educate future generations,to envision something promising, challenging the status quo,so modern,so futuristic.Important influence on each crisis is played by human being,his education and his mental balance.We can curate the future through the design approach to timeless,everyday issues such as everything that is behind a crisis,racism,death,etc.This will create real symbiosis in society in order to achieve desirable futures both at the level of our planet,our cities and at personal level.In this way architecture stops ending up as just another market product but extends the idea of helthier society.We considered 'indoor era' as more and more young generations are getting imprisoned in their homes under artificial light as technology and architecture itself encourages alienation from the public and push to individuality, an important step would be to start to re-think public space.