Stitching Atomic Narratives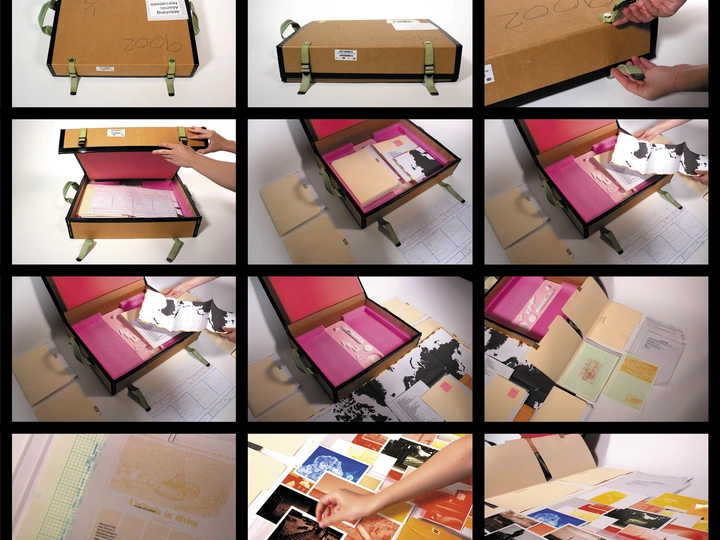 The project examines three exclusion zones to unfold the blurred entanglement between nuclear technology and its geo-political/socio-cultural agents.
---
Unbound Cartographies
Currently: Cambridge (Massachusetts), USA | Also: Sofia, BG and Reggio Emilia, IT
Links
Team members
Rosita Palladino
Galena Sardamova
Mara V. Diavolova
Field of work
Design, Ecology, Visual Art, Curating, Research
Project category
Raising awareness
Project submitted
2023
«Unbound Cartographies» is a multidisciplinary collective working across art, architecture, and activism. The three founders, Galena Sardamova, Rosita Palladino, and Mara Diavolova, are currently graduate students at Harvard University Graduate School of Design and MIT School of Architecture and Planning
Galena Sardamova's artistic, curatorial, and research practice investigates the cross-linguistic and cross-cultural nuances of memory/nostalgia, space/place, and ritual/(be)longing. Originally from Sofia, Bulgaria, she graduated from the University of Pennsylvania in May 2020 with a major in Architecture and minors in Fine Arts, Art History, and English. Galena is currently pursuing a Master in Design Studies (Domain of Narratives) at the Harvard University Graduate School of Design.
Rosita Palladino, an Italian architect with BArch and MArch from Politecnico di Milano, has experience practicing architecture in Italy and Portugal. As a Master in Design Studies student at Harvard Graduate School of Design, her research explores the interplay between territories, extraction, and migration. She focuses on food-centered nostalgia's role in re-establishing cultural connections and affirming identity amid displacement. Rosita is passionate about using words and design to foster empathy and understanding for the resilience of rural communities facing tangible and intangible challenges.
Mara V. Diavolova is a second-year Master of Architecture student at MIT. She holds a B.A., Hons. in Architecture from University of Pennsylvania. Her interest in architecture and its externalities stems from her experience living in post-socialist Sofia, Bulgaria, where the built environment is an arena for political and economic gain. Mara is interested in combatting the forces which enable the discipline's perpetuation of faulty and unjust archetypes. Currently, she engages with questions at the intersection of nature and technology, material circularity, maintenance, and repair.
---
Stitching Atomic Narratives examines three exclusion zones – Sardigna in Italy, and Kozloduy and Belene in Bulgaria – to unfold the blurred entanglement between nuclear technology and its geo-political and socio-cultural agents. The project asks if it is possible to trace a network of interconnected patches related to nuclear technology, simultaneously focusing on micro and macro aspects of the issue.
Our motivation is to center the periphery: both in terms of global relations and on a local level. We also recognize the spaces in between those entanglements, or between what has been documented and what has been left unseen. Through centering this tension, we make the invisible visible and give voice to communities which have not had such agency before. We thus foster a sense of empathy both within the studied geographies and beyond
Members of the individual communities will recognize themselves in a broader narrative; this empathy, however, also transcends relation and goes beyond self-recognition, as will be the case with publics seemingly not affected by the issue.
The archival object materializes the discovered interconnections and everything in between. This portable ever-growing archive exists in the form of a suitcase filled with maps, diagrams, text documents, photographs, and objects connected to nuclear power's presence in and influence on the studied territories. The artifacts are treated as a traveling lawsuit, with the three researched locations acting as illustrative case studies; the additional entangled sites we have mapped out form the itinerary the suitcase passes through and is activated in. By giving such a tangible dimension to our research and an added sense of agency, we aim to expose all the poignantly human aspects of a topic still scarily vague and inaccessible to the collective imagination.
This project was conceptualized at the Harvard GSD, advised by Malkit Shoshan, and in collaboration with the UN Office for Disarmament Affairs