The Living Factory, mumbai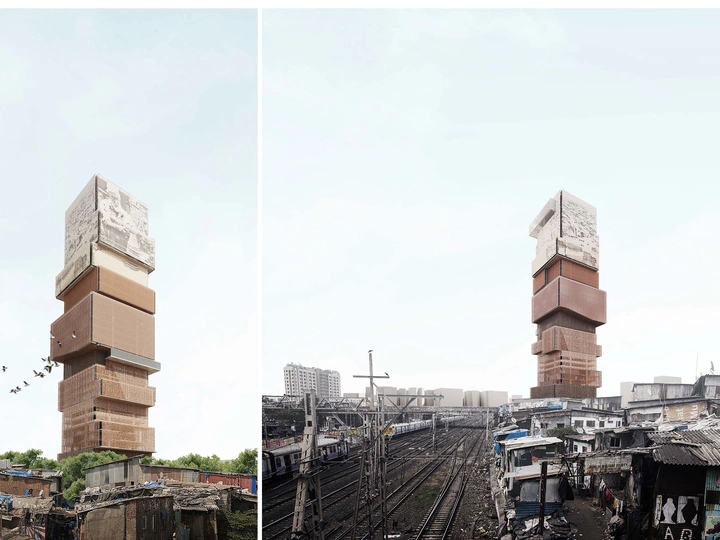 A stacked sustainable Skyscraper, reforming communities
---
Benart Shala
Mumbai,India
Links
Field of work
Architecture, Ecology, Research
Project category
Energy
Project submitted
2022
Benart Shala
Juan Carlos Medina
Made Harris Kuncara
María José Montero
Pham Hong Ngoc
Tanadeth Mahapolsirikun
Benart Shala, an architect currently studying master level, building architecture in Politecnico Di Milano. In 2018 Benart won first place in summer school in Piacenza (held by politecnico di milano). 2 times finalist in Mda wood national connvention.
---
BACKGROUND
Our project is located in Mumbai, India. More precisely it is situated in the close proximity of Dharavi, India's largest informal settlement.
Slums are generally seen as places of desperation, extreme poverty and unhealthy conditions. But under that layer, they also carry many qualities among which the worker's industriousness, the self-made characteristics of the buildings, their flexibility and adaptability, the large variety of activities involved ranging from manufacturing, product transformation and the important recycling activities that affect the whole area of Mumbai.
THE IDEA
We have been inspired by Dharavi's positive aspects and want to include them in our design in order to highlight them and protect them from the unconscious redevelopment plans that threaten their existence.
In fact, our project is meant to be a starting point for an action of sustainable redevelopment of the informal settlement.
In fact, Dharavi's area is dangerously dense. Only a multi-functional building with a high FAR (floor area ratio), located in one of the very few empty areas, can alleviate the urban pressure on the slum and lead to a tangible positive impact.
With a coordinated action of a tall building, relocation and punctual improvement interventions: several small clusters of businesses and families would transition in our tall building, they get formalized, their livelihood is enhanced and their former locations gets redeveloped punctually with basic public services (ex. sanitation facilities) that are greatly needed and directly enhance slum liveability without demolishing it or changing its intrinsic characteristics.
Through a pragmatic program of the building, the tall building becomes an inhabitant voice, a realistic container for slum residents' skills, competencies, abilities to being active in the socio-economic life of the city, having as goals economic growth, clean environment, cultural richness, civic emancipation.