The Wedding of Public & Private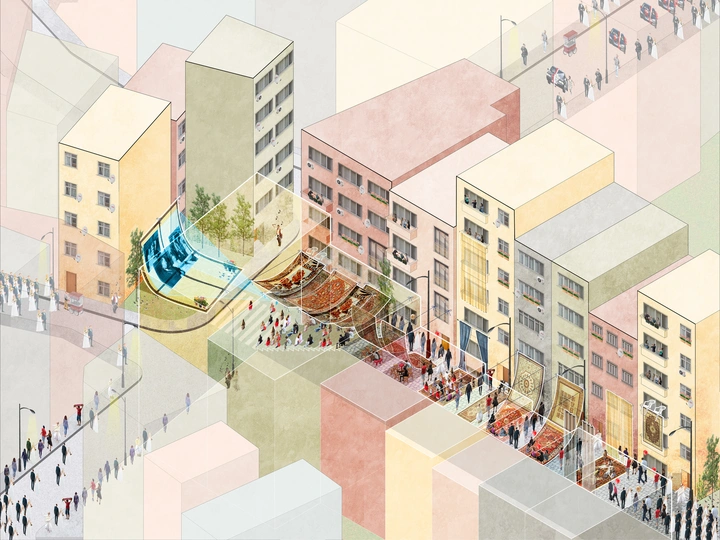 A new method of urban design that reimagines protests by blurring the lines between the domestic and public space.
---
Polen Guzelocak
New York, USA
Links
Team members
Polen Guzelocak
Field of work
Design, Urban planning, Visual Art, Communication, Research
Project category
Raising awareness
Project submitted
2023
Polen Guzelocak is an architect, currently based in New York City. Her work moves in a transdisciplinary field between urbanism, architecture, and policy, embracing the approach "designer as a performer."
---
Focusing on Turkey as its context, the project investigates how the reenactment of domestic practices at protests can alter public spaces in order to establish a new method of design for personal yet communal spaces.
Under Turkish rule, the method of urbanization is fear. Fear allows the government to turn public space into the domain of the state and create a tradition of self-censorship. In contrast, the domestic is left to be the "sphere of freedom". At home, dominant ideologies are both transmitted and contested within the family, which functions as a refuge from state violence. The dichotomy between public and domestic space compels the citizens to resort to a particular form of individual everyday mobilizations, which could be more effective than conventional protests.
The project proposes a design tool kit for everyday tactics and implements it within an imagined protest. This protest does not have a political agenda except to encourage safe public conversation. The activities of this protest are connected through the performance of a street wedding, which is an everyday practice that initiates the transition from one domesticity to another through blending private life to the public realm. Furthermore, marriage as an institutional site is especially important for the conservative government as their state politics are very much tied to family politics. Thus, the integration of protest and wedding tradition protects the protestors from government interference.
In the end, the project advocates for a flexible, living language for urban design that can respond to diverse practices, sites, and issues. Through its adaptability, this method does not only give agency to the seemingly "naive" practices of everyday life but also transforms the act of protesting into a tradition. Expressing your opinion publicly doesn't need to be a violent act anymore but becomes a celebration.