Waste based (re)construction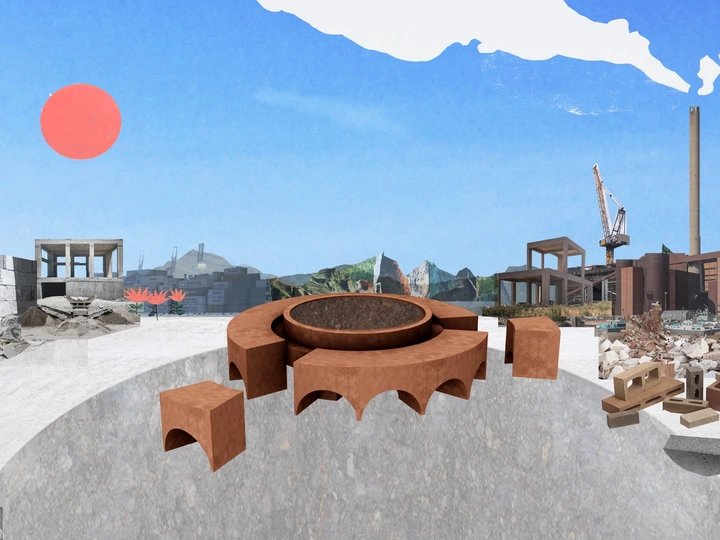 From construction waste to new structures of Togetherness- we are approaching public space through urban mining.
---
Links
Team members
Lennart Engels
Karolin Kull
Ágnes László
Julia Postrzech
Valentí Soler
Field of work
Architecture, Design, Research
Project category
Material tracking and reuse
Project submitted
2023
Our team is made of a group of five passionate students coming from diverse international backgrounds (Belgium, Estonia, Romania, Spain and Ireland). We met at Aalto University, where we are all Master degree students and we decided to come together to create a collaborative project outside the University's frame.
---
Our project targets the themes of social sustainability in transforming times and circularity in the material use of our built environment. We focus on the idea of togetherness, that can arise from many forms of gathering. A space for togetherness at its core is the sense of binding with others through a shared experience, a common context or meeting point.
Gathering around a fire is one of the oldest rituals created to come together. Fire is a source of warmth, light and as a mediator for conversation. Our proposal aims to look forward while looking backward, aspiring to provide a refreshed approach while not attempting to ignore the human historical background. It is much easier to connect to something new through reminiscing of something old and familiar, which immediately brings inner warmth and creates a base level of trust.
By reaching into cultural memory we can incite reactions of emotional respect through the use of monumental elements and materials, which subconsciously remind us of ancient constructions, of monolith built structures meant for gathering, contemplation, or ritual practices.
This line of thought is carried to the material choices. The pieces of the spatial installation are cast with geopolymers, inorganic polymers produced from geomaterials at low temperatures. A low- tech process both ancient and innovative enables the use of construction waste as a new material source. Taken into a contemporary viewpoint, local secondary materials are revalued and given a core position for social life. The combination of this monolithic background with the timeless concept of the fireplace turns private into public, and merges rituality with domesticity.
By implementing an object for communal use, we aim to emphasize the free and flexible use of open space, providing a focus point for community building in ever changing times. At the moment we are in the process of experimenting with material to build our first models and prototypes.