The City is Never Complete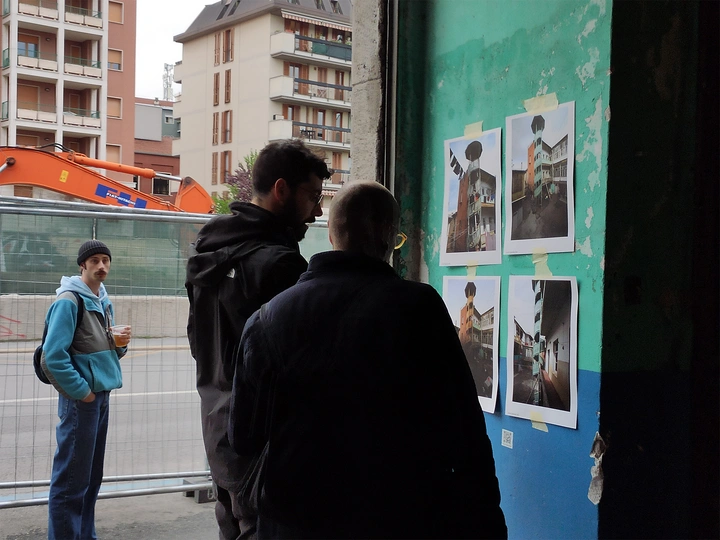 Catalyze regeneration processes through collective actions to empower individuals with sense of ownership, responsibility, and freedom of expression.
---
Staircase NNLE (Non-Entrepreneurial Non-Commercial Legal Entity)
Tbilisi, Georgia - Milan, Italy
Links
Team members
Francesca Crotti
Thomas Ibrahim
Martynas Kilius
Giorgi Sumbadze
Turan Ziaiemehr
Field of work
Architecture, Urban planning, Ecology, Multimedia, Research
Project category
Public space
Project submitted
2023
Staircase is an organization composed of architects, artisans, and multimedia artists whose collective practice emphasizes the link between habit and habitat. Our team's interest in architecture stems from the awareness of homogenization and subversion of individual perception under neoliberal urban production, and we emphasize the formation of individual and collective consciousness reflected in everyday objects and space, in our practice. Our approach focuses on the catalyzation of social processes through architectural and performative intervention with the involvement of community. This manifested in a series of collective actions which empower individuals by raising awareness of alternative possibilities for the present and future reality.
Staircase NNLE was initially founded for the production of Kibe-Projekt, an unsolicited conservation initiative responding to the neoliberal real estate development degrading the urban fabric of Tbilisi, and providing a future for the local Ezo (courtyard) House typology. This project was not the first effort to respond to the ongoing urban transformations in Tbilisi, but has been one response in a much longer process. Our work is achieved through research, public discussions and tours, and culminated in the conservation of a historic spiral wooden staircase in a post-Soviet multi-owner property.
Following these precedents, our work continued with the SOCII event in collaboration with DROPCITY, Tunnel 38, during Milan Design Week 2023. The event was focused on alternative visions for ongoing gentrification processes; specifically, the creation of zones of free expression in highly programmed and coded areas. Our method for activating the space was based on performativity and involvement of visitors in the inhabitation of the tunnel collectively breaking normal social boundaries and enabling free expression.
Our practice and problematization in architecture and urbanism is focused on memory.
---
The central themes to our prior initiatives have been the engagement of communities in the processes of producing space and habit and conservation and elaboration of 'urban spirit' considering local idiosyncrasy, through performativity. Kibe-Projekt produced an alternative vision for urban development, while SOCII challenged the homogenization of cities. Both instances demonstrated that the participation of people in a space for a prolonged amount of time and in close proximity while engaging in activities allows for free expression, fosters a sense of collective ownership and creative agency, and eventually results in the continuous (re)production of habits and habitats.
We believe that by engaging a whole ecology in social, cultural, and spatial practices, architects can intervene in the process of obsolescence and decay affecting space and objects. We propose the catalyzation of space through the production of the first EFFECT in space, and the solicitation of other agents in the city to confront our interventions head-on. Furthermore, the perpetual production of space renders it ever-incomplete and ever-appropriable, ultimately intervening in its process of entropy on the premises of positive/creative energy. This methodology, due to the diversity of creative stimuli and tight proximity, allows for cross-pollination of ideas that will result in the seemingly absurd: new assemblages/innovation.
Based on the success of previous precedents, we are trying to engage new contexts with the same methodology to continue its refinement, and inform it with more idiosyncratic information from different realities. Our approach embraces the one and the many with equal intensity; that is to say that we value locality to understand what concepts are universally held. Our final aim is to create a mobile house which is never complete – or a caravan of 'obsolete' thoughts.