Sustainable Dwelling in Small Apartments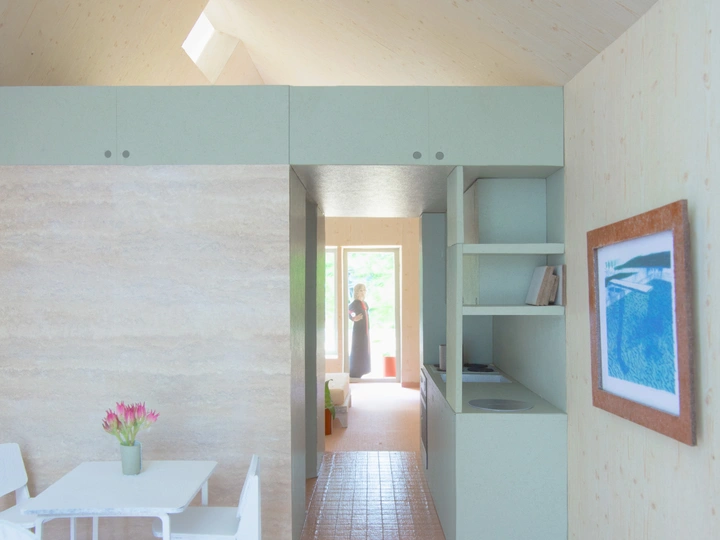 Sustainable architectural housing design project with a focus on small appartments and common areas
---
studio blau sieben (Höfig Nierzwicki Architekten PartGmbB)
Norderstedt, Germany
Links
Team members
Gašper Habjanic
Marie Hilmer
Sophie Höifg
Nicolai Löffler
Mathaeus Lukas Nierzwicki
May Rehse
Field of work
Architecture
Project category
Public space
Project submitted
2022
studio blau sieben in collaboration with Gašper Habjanic, HochC Landschaftsarchitekten
studio blau sieben was founded in 2019 by Sophie Höfig and Mathaeus Nierzwicki.
The topic of sustainability is our main issue, both in practice and teaching. In this context, we investigate the sustainable approach to space and material in all scales: urban planning, building design, and the question of constructive details.
---
The average living space per person has been continuously growing over the past years. This additionally increases the environmental impact. Knowing that the building sector represents one of the largest polluters, we need to investigate alternative ways of living.
From a special view we ask, how a reduction of energy and space consumption without a renouncement of both, individual spatial quality and vital common spaces, might be possible.
The Norderstedt Project proposes an architectural housing design with the focus on small flats used by singles or couples, whereby the quality of common areas seek to compensate the small individual spaces. We choose a system of prefabricated wooden modules and combine them with a steel structure that is an arcade and a common space. In order to achieve maximum use in the 40sqm flats, areas are coded multifunctionally. Being right in front of a flat, the common arcade becomes an extended private space and the kitchen is simultaneously a corridor between two rooms. Despite of its small size, the provided flat does not loose essential qualities of a "big" flat: two-sided natural lightning, two-sided ventilation, two separated living spaces, altogether a certain spatial complexity. A box separates the two almost identical rooms that differ mainly in their orientation and degree of privacy. Furthermore, it provides all utility functions: it inhibits a kitchen, a bathroom and a storage. Additionally, it is equipped with functions that provide a surplus space: a fold-out worktop, a fold-out ironing board or an integrated ladder that leads to an additional storage space above. The raw clay wall with its integrated heating system provides a pleasant indoor climate in terms of both, heat and humidity. The prefabricated shed roof and the south facade are solar active, whereas the energy supply exceeds the demand by far.