in a forest, in a city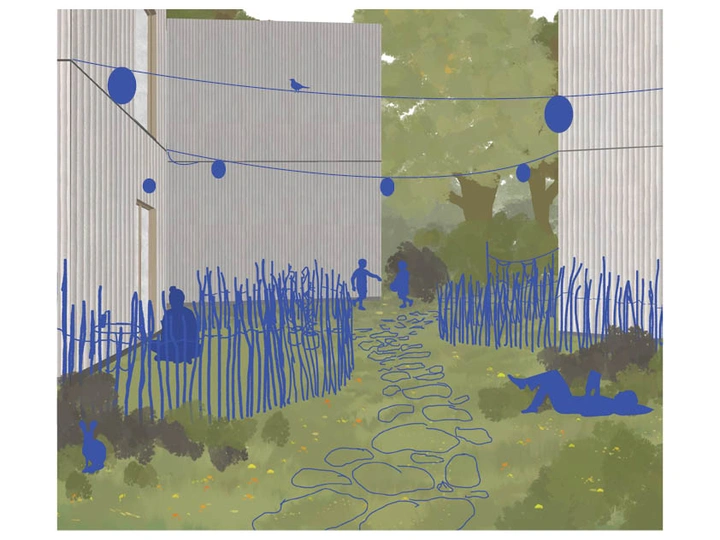 sustainable housing on the edge between individual and collective
---
Dominika Vaskova
Brno, Czech republic
Links
Field of work
Architecture
Project category
Rural spaces
Project submitted
2022
My name is Dominika Vasková and I am from Slovakia. Nowadays, I am studying post-graduate programme in Brno university of technology on Faculty of architecture in Czech republic.
In the future I would like to be part of a team, who works on finding and creating new ways of living in a more responsible way.
---
This project mainly focuses on the design of responsible living in a cycle with our surroundings, with nature, ecosystems, and all of the people. The focus is to create a space for community of people with semi-public spaces, common spaces and mainly to have permaculture as the remaining nature and greenery around the homes without any perfect lawns and demanding green spots. Permaculture is the most important part of the project because it interfere with community, as the main point of permaculture is to live in a cycle, not in isolation and anonymity, and that every person, object, nature is equivalent and connected within each other. My project doesn't focus only on creating some good rainwater system for example. It goes to the main core of what and who and how we can create responsible society, which can naturally lead to the other sustainable and technical options.
From a social point of view, we should live in a space where we can deepen our relationships, receive new information and change our view on life. So that our life changes cyclically and in relation to the environment in which we live. Because without natural reality and relationships, our sensitivity and knowledge decline. This is how it happens that our personal problems then rise to the level of the problems of the whole society. Each of us should rediscover our own community and become an important and unique part of it.