Nord Stream 3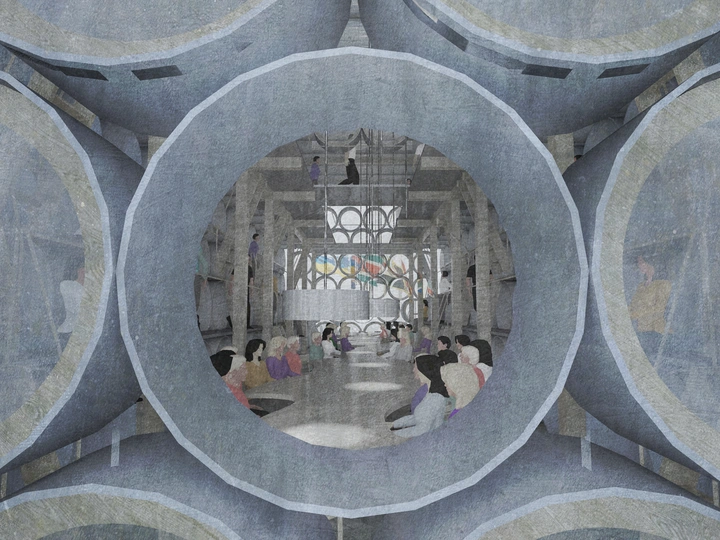 In order to become independent of autocratic states, Opposite Office transforms the baltic gas pipeline into a center for international understanding.
---
Opposite Office, Benedikt Hartl
Nord Stream 2, Lubmin, Germany
Links
Field of work
Architecture
Project category
Raising awareness
Project submitted
2022
Opposite Office is an activistic architecture studio led by Benedikt Hartl. Opposite Office draws, writes, imagines and builds architectural stories. The (opposite) office was founded in 2017 and is located in Munich. We are engaged in the fields of architecture, society and its interfaces. Opposite Office works between reality and fiction. We seek to re-imagine and rethink architecture within its social and spatial mission.
---
In order to become independent of autocratic states in the long term and to implement the energy transition to renewable energies in Germany, "Nord Stream" is stopped. Therefore, Opposite Office was commissioned to design an alternative concept for the Baltic Sea pipeline. The site of the German landing station in Lubmin near Greifswald is being repurposed and transformed into a center for international understanding. The pipes that have already been laid will be taken out of the sea and used as building material for "Nord Stream 3". "Nord Stream 3" is a program of the German Federal Government for peace and international understanding. The 1,153m diameter pipes will be converted into a 194-sleeping capsule hotel. These 194 bunks are randomly raffled off to people around the world every month, so that every country can occupy one bunk. This month-long residency, which is free to all, aims to bring together people from all over the world; from all classes, cultures, religions and nations. This creates an intercultural exchange that enables personal friendships and breaks down prejudices. The aim is to create space for an exchange of interests and mutual input from the citizens of the world community. In the discussion of climate, social, health and economic policy issues, the participants bring their ideas, values ​​and maxims for action, negotiate them at equals and thus bring new implications, inspiration and impulses to their countries of origin. At the level of civil society, transformations can be made possible and shaped from below, supported by an international, multicultural process of exchange, networking and cooperation. Instead of a gathering of top diplomats and heads of states at the United Nations, a general assembly of the common people, the citizens of this world, is meeting at "Nord Stream 3".