Symbiopunk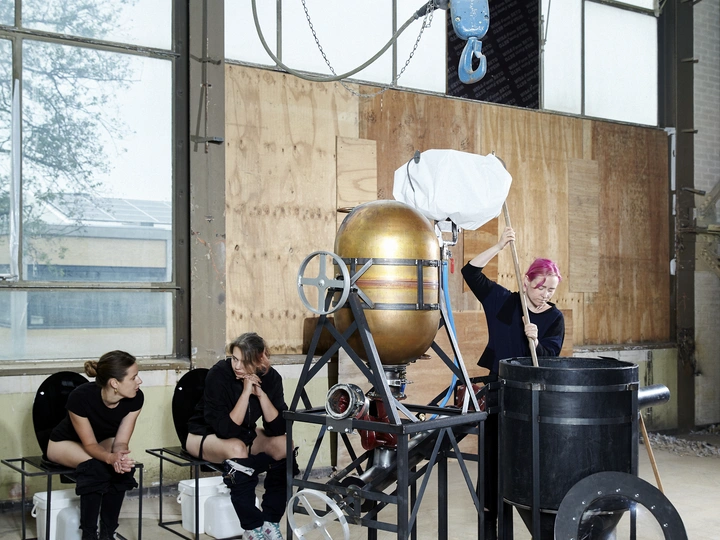 This gleaming machine turns human poop into fertile soil
---
Rebecca Schedler
Rotterdam, Netherlands
Links
Team members
Rebecca Schedler
Field of work
Design, Visual Art, Research
Project category
Food system
Project submitted
2023
Rebecca Schedler is a designer and researcher from Germany. She investigates complex relations between social, cultural, political, and environmental issues by exploring the intersection of design and science.
Her work deals with interspecies interactions, technology, taken-for-granted materials, such as mushrooms and shit, and how these could lead to a more shared and equal future. Through a Bioreactor-system, she explores hidden systems, the unseen and the abject, which form a vital part of our environment and living space with their life, age, and death.
Rebecca graduated from the Design Academy Eindhoven (NL) with a Master's in Social Design and holds a Bachelor's degree in Textile- and Surface Design from the Kunsthochschule Weißensee Berlin (DE). She is currently active as a tutor in the Biolab at DAE.
---
The project Symbiopunk is a bioreactor and compost system that converts human faeces into fertile hummus by introducing fungi cultures to performs the digestion. The project invites us to reconsider the taboo around the natural process of defecation by showing how the human waste becomes valuable first as an essential food for the mushroom, which in turn produces a fertiliser that can be used for cultivation purposes. Recognising the value in human faeces relies on establishing a symbiotic relationship with the mushroom, which is a long-term process requiring self-reflection and behaviour change that recognises that nature doesn't revolve around human life, but that it's a mutual interspecies give-and-take.