We Need to Talk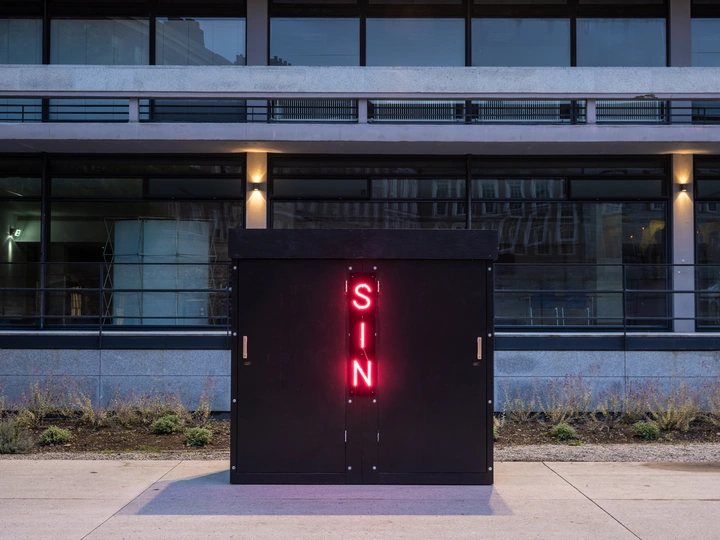 WITHOUT SIN and the architectures of conversation
---
Shane Sugrue (Unqualified Design Studio)
Dublin, Ireland
Links
Team members
Bláthnaid Conroy
Hugh Farrell
Amy Learmonth
Shane Sugrue
Barry Todd
Josh Wilkinson
Field of work
Architecture, Design, Curating, Research, Other
Project category
Raising awareness
Project submitted
2023
I am an emerging architectural designer & creative researcher based in Dublin. My work examines the architecture of ritual & the relationship between design & democracy.
As co-founder & director of Unqualified Design Studio (UDS), I have created large-scale interactive installations at festivals & events around the world, including VIVID Sydney & Burning Man. UDS is an award-winning international arts collective established in Brisbane, Australia with architects Amy Learmonth & Stirling Blacket, sound/interaction designer Josh Wilkinson, fabricator Karl Richardson & performance artist Marisa Georgiou. Since 2015 UDS has produced large-scale installations, public rituals and unsolicited theatrical interventions at events in Australia, the UK and Ireland, working with a growing list of collaborators including Unregistered Master Builder, Kimera Visual Theatre, The Artful Podger, Hugh Farrell, and Studio Kinnard. Based in Dublin since 2020, recent UDS projects have included WE USED TO PLAY HERE, a pop-up micro-venue designed for members of Ireland's leading contemporary music group, Crash Ensemble, to tour during the pandemic, shortlisted for the Irish Design Awards; and WITHOUT SIN, a contemporary take on the traditional confession box, supported by the Arts Council of Ireland, Dublin Fringe Festival, Dublin City Council & the Office of Public Works. WITHOUT SIN is currently featured as part of Culture Ireland's Edinburgh Fringe 2023 Showcase.
I hold an MPhil in Architecture & Urban Design from the University of Cambridge & an MSc in Architectural Acoustics from London Southbank. I am currently employed on the RIAI/OPW Graduate Training Scheme preparing for professional registration early next year.
---
​​WITHOUT SIN is an immersive theatre installation created by UDS for the 2022 Dublin Fringe Festival. Billed as a 'contemporary confessional for the modern sinner', the piece brings an audience of two into a purpose-built wooden booth, where they are guided into conversation by a series of audiovisual prompts. Recalling the typologies of the confession box, the piece is designed to encourage reflection on how our relationships with each other and with the city evolve over time, and what it means to live together in the face of technology-driven catastrophe. Met with critical acclaim during its week-long run at Dublin Castle, WITHOUT SIN toured Ireland this summer, before traveling to the Edinburgh Festival Fringe where it is currently running until the end of August.
Through engagement with LINA, my aim is to develop WITHOUT SIN into a broader action research project by seeding a parallel undertaking of critical discussion & reflexive writing around the project as it unfolds. At the core of the project is an exploration of the role of ritual in helping us reconcile the contradictions of our present condition – and the role of architecture as means by which we can make space for such rituals. This builds on previous work developing the idea of 'ritual infrastructures' as a conceptual framework for unpacking the material, social, & spatial processes by which narratives of place & identity are formed & contested. The climate crisis & its attendant pandemics, wars, and mass-migrations call attention to the limits of our capacity for empathy, raising sometimes uncomfortable questions about how or why we value certain kinds of lives and experiences. Providing a platform for strangers to reflect on such questions together, WE NEED TO TALK seeks principally to generate good conversation – about the need for civic and cultural spaces where we can learn to extend our sense of care &, perhaps in time, to cooperate in addressing the collective challenge we face.