Scotch House :Sustainable Town Centre Living Model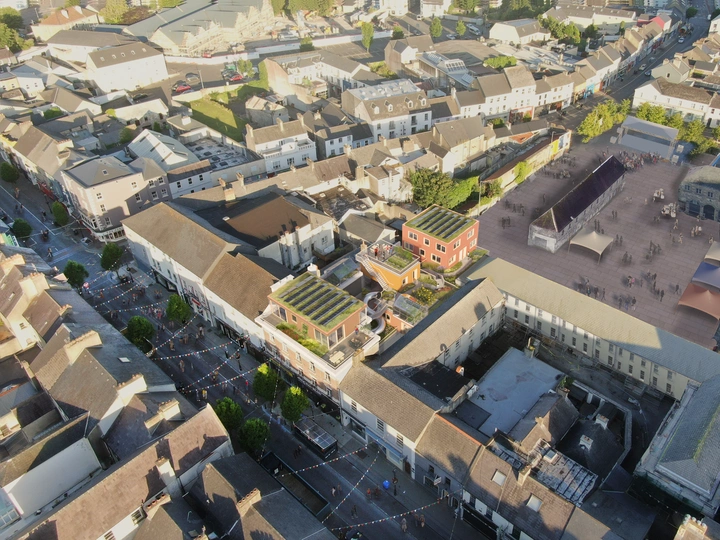 Housing and Climate Change are 2 of Ireland's biggest crises & the conundrum of how we house people while reducing our emissions can seem conflicting
---
Accelerating Change Together (ACT)
Ballina, Ireland
Links
Team members
Tom Lindsay
Kevin Loftus
Inna Stryzhak
Field of work
Architecture, Design, Urban planning
Project category
Renovation
Project submitted
2022
Accelerating Change Together (ACT), a social enterprise of architects, urbanists and policy specialists are implementing solutions to accelerate the green transition and achieve sustainability and resilience in the built environment. Their work on buildings and visions demonstrate how a low-carbon, inclusive, biodiverse and sustainable future can be achieved with by engaging with clients and communities to get the best outcomes.
---
Housing and climate change are two of Ireland's biggest crises and the conundrum of how we house people while reducing our emissions can seem conflicting. Scotch house, a residential and mixed use, urban infill project in Ballina, Co. Mayo provides answers to the key questions arising from this.
Town centres have the potential to offer sustainable places to live with existing vacant structures that can be brought back into use and easy access to amenities through active travel.
However, making town centre living attractive is challenging. Irish towns lack variety in housing types and space and there is a perception that the suburbs offer a better quality of living. New housing models are needed to create a greater range of housing types that suit the different demographics and their varying needs.
Scotch House is a town centre, mixed use project that provides 'own-door' access to open green space. It has a variety of unit types including mixed residential for different ages and stages of family living and blended retail spaces. A stacking approach to densification and infill is used which allows the existing buildings to be retained and the creation of rooftop gardens in between the new volumes.
The sustainability credentials of Scotch House go beyond its building materials. Energy is generated through solar panels. Heat pumps and recovery systems are used to minimise energy needs. Allowances are made for increased rainfall with 'blue green roofs' that harvest rainwater and relieve pressure from the stormwater system, while supporting biodiversity through native planting.
ACT has used the acceleratingaction.com SDG tool to determine the potential impact of Scotch house from a Sustainable Development Goals perspective.
Scotch House offers a blueprint for the creation of low carbon, sustainable, inclusive and biodiverse spaces and will have a long-lasting positive impact, putting life back into the heart of Ballina.