Statementmaking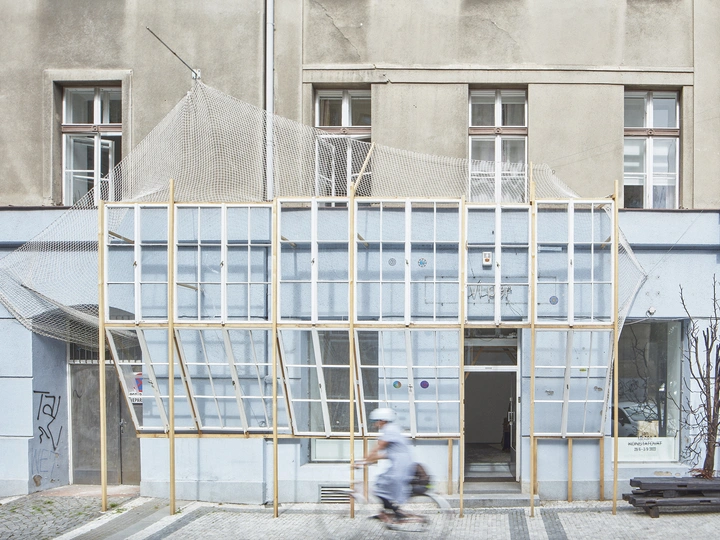 Solo exhibition exploring sustainability, upcycling, but also temporariness within the problematic of architecture, its contructing and public space.
---
Jan Fabián
Prague, Czech Republic.
Links
Team members
Jan Fabián
Field of work
Architecture, Ecology, Visual Art
Project category
Public space
Project submitted
2023
Jan Fabián often deal with public space, urban environment, sustainability of used materials and construction methods. Many installations take the form of active interventions, sculptural gestures or performances. In addition to his art projects and design, Jan Fabián is also active as a practicing architect, designing and realising interior reconstructions, new buildings, and adaptations of garden objects, weekend cottages, or private houses. The incorporation of original, reused or found materials, which Fabián collects, plays an important role in the creative process.
While certain architecture projects of Jan Fabián maintains a distinct aesthetic form, the opposite is true of his independent projects. He creates objects out of left over plasterboard, broken wood chips, scraps of nets, broken planks, sheet metal, rubble or plastic. Impoverished materials and spaces, provocatively poor and primitive.
It is not only the static object that interests him, but also the living entities that he incorporates into certain projects. It could be point out an example of temporary use of urban public space as a wild assemblage of absolute leftovers and finds was in fact a group of several small dwellings, including net aviaries for smaller animals (chickens, birds, rabbits), which lived there for the duration of the installation, enticing the public to participate in their care.

BIO
graduated in 2003 from the Academy of Applied Arts in Prague. During his studies, he started to design and realize interior reconstructions in addition to design and installations, and gradually larger projects were added to the smaller ones. He exhibits regularly, often creating installations that enter public spaces. Since 2014 he has been teaching at the Institute of Art Design at the Faculty of Architecture of the Czech Technical University in Prague. He is currently completing his PhD studies at the Faculty of Art and Design, UJEP in Ústí nad Labem, Czech Republic.
---
If we think critically about current state of society, it is increasingly clear that the majority of the world's population is intricately woven into the complex fabric of urban life. It is in these urban units that we live, work, and move in our daily lives. As a result, it becomes necessary to delve into exploring contemporary interpretations and implications associated with the concepts of sustainability and architecture. 
Shall we strictly divide these concepts, keeping them separate and apart from each other, or should we instead embark on a journey of discovery and search for new perspectives and contexts that embrace their natural interdependence?
Statementmaking is a conceptual solo show in which I have applied most of the principles of working with space that I have been doing my whole career, which can be boiled down to these points:
Landscape/urbanism - I work with a careful grounding in the terrain and context of the surrounding environment. It is a critical commentary on society's relationship to the environment.
Participation - the ideal is if the work can serve as a platform for community life or provoke discussion.
Exploration of relationship to living and non-living entities - project serve as a means of commenting on society's relationship to other plant or animal species, to foster a shared sense of care.
Sustainability and upcycling - by reusing discarded objects and applying a certain aesthetic through them, among other things, I challenge conventional notions of waste and consumption.
Building operations and materials - I draw attention to the impact of building processes and highlight the aesthetic and ecological value of sustainable building practices.
A question of roles - artist, sculptor, architect, builder, building supervisor, laborer, shipper, waste handler, but also parent or lecturer of workshops or guide of tours.
Education - providing educational activities and events for public or children's groups, etc.