Grüner Berg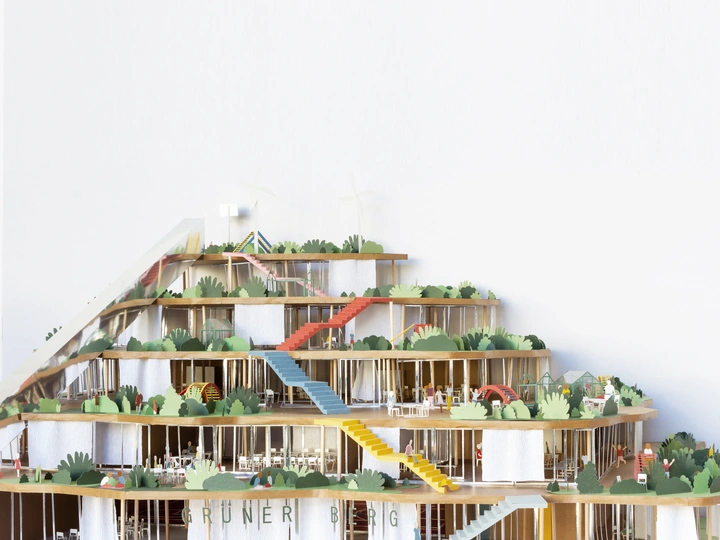 The project is a proposal for a post carbon built environment that is climate positive and proactively contributes to ecological restoration.
---
OFEA Office for Ecological Architecture
Berlin, Germany
Links
Team members
Jurek Brüggen
Aimée Michelfelder
Field of work
Architecture, Urban planning, Landscape architecture, Ecology, Research
Project category
Urbanity
Project submitted
2023
OFEA is an architecture collective with the aim of collectively developing ecological, experimental projects.
---
The project Grüner Berg is a proposal for a future school building that does more good for planet Earth, not just less harm. That is why its footprint and surface is maximum. It covers the contaminated soil which can therefore remain on site.
In this school the children learn not only about, but in cohabitation with the planet Earth. On each floor they are surrounded by a living environment. The building is part of the ecosystem of humans, flora and fauna. The covered ground surface has been fully replaced by continuous green areas on all floors. Two inclined elevators serve as mountain railroads for the primary school students, staff and visitors. The assembly hall next to the public square, offers a glimpse into the lively inside of the green hill with its sports hall. Two large incisions enable natural cross-ventilation and night cooling in every room of the building. The building Grüner Berg is a lively, walkable centre of the neighbourhood. All rooms are accessible from the outside and can be used independently at any time.
Before construction the seeds of the existing, documented flora will be collected, preserved and planted on the building after completion - to create a local, low-maintenance habitat structure. Soil layers decrease with the height of the building from 15 cm up to local accumulations of 60 cm. When it rains heavily, the building functions like a sponge - the staggered levels form a cascade of extensive retention fields.
The floors of compacted clay store the cold in summer and the heat in winter due to its thermal mass. Using exterior curtains with photovoltaics, the building produces electricity, when shade is desired. The irregular shape of the planes is curved like a cell wall in order to maximise the length of the electricity-producing curtains. Small wind turbines on the roof ensure complete renewable electricity production.
The project shows how to enable systemic restoration for a post carbon built environment.