Within walking distance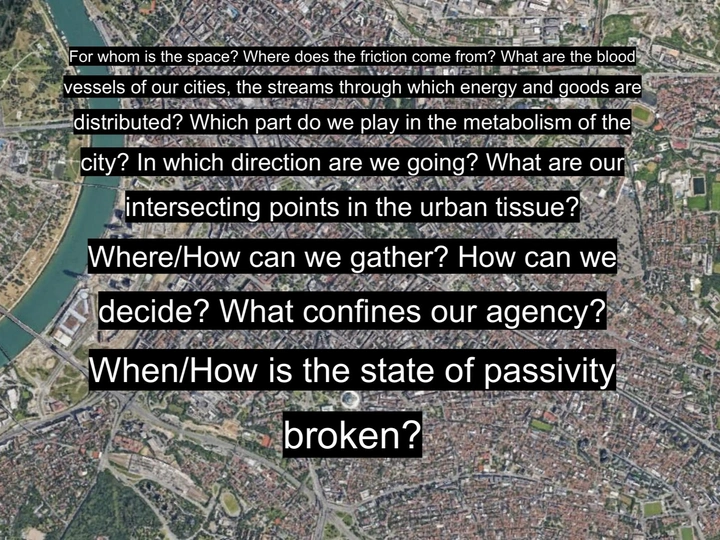 Walking as a tool for redefining our relationship with the space we inhabit, performing collectivity and critical unlearning
---
Nevena Delić
Belgrade, Serbia
Links
Field of work
Visual Art, Curating, Research
Project category
Public space
Project submitted
2023
I am an artist and curator, currently living in my home country - Serbia. My educational background is in the field of visual arts. I have completed my bachelor's studies at the Academy of Fine Arts "Pietro Vannucci" in Perugia, Italy. After that I have participated in numerous both formal and non-formal educational programmes, including Curating in Context in 2022 (a freestanding two-semester course organized by the Stockholm University of the Arts - SHK and Lokomotiva, Skopje), Towards non-Extractivist Curating, Epistemologies of the South and Curatorial Practice in 2022 (ZHdK), Feminist Studies programme in 2023 (a one-year programme organized by the Center for Women's Studies, Belgrade), IMMA International Summer School ART&POLITICS no.5 Art and Assembly in 2023 (Irish Museum of Modern Art), Intercultural Icebreakers Serbia-Kosovo programme, ongoing (a residency programme for artists organized by the Helsinki Committee for human Rights - Belgrade and Artpolis - Prishtina).
My work experience includes cultural mediation, production assistance, curatorial assistance, gallery assistance, cultural management, grant-writing, public programming. I have decided to take up curating from a sense of urgency, a need to redefine where I stand in relation to the context, establishing new forms of sociability, new ways of thinking collectively and finding collective agency through micropolitical acts of resistance within a community. What interests me is thus the interstice between education, artistic and sociocultural practices; the idea that curating does not mean to produce and display value, but to rearrange and rethink how value is distributed, received, and perceived. What excites me is the idea of working as a facilitator/stimulator, as a "connective tissue", operating along the lines and intersections of producing, generating and mediating knowledges, experiences and dialogues, speculating and denaturalizing the inherited and hegemonic ways of thinking and seeing.
---
The curatorial proposal stems from the writing of F. Careri in Walkscapes (2002), that defines walking as a critical tool for simultaneously perceiving and creating/negotiating space. The elementary experience of walking becomes a critical tool in relation to one's surroundings, and can be articulated as a symbolic and even subversive act, capable of redefining our relationship with the space we inhabit. The scope is to disorientate and push towards new ways of seeing and moving; unlearning the space and critical distance is what allows for changes to occur. How can we disrupt our perception and behold a different layer (symbolic, historical, political) of the space that surrounds us? The context that gave rise to these questions is the city of Belgrade. The Serbian capital displays the conflictual struggles of a city driven by foreign investors and corrupt political elites who put private interests in front of public and common good. The history of the city's urban sprawl and development is full of rapid and ambiguous changes brought upon by top-down decision making, superficially buried structures that strive to mold the city's interface conforming to western ideals, governed by the forces of neoliberalism. The current state of affairs urges for decentralized ways of reclaiming and building shared spaces. Due to unaccountable policy-making systems, this can only be established through micropolitical acts of resistance. The collective body is manifested through walking together (protests, marches, parades = embodied experiences) and is a practice of resistance, a somatic experience that turns into a performative gesture. Creating this collective body is the condition of collective action and embodied agency, manifesting the growing need for active and participatory ways of inhabiting the space. The collective body is not a uniformed entity, but a structure formed out of necessity in response to the current crisis. A detailed proposal is attached further down.