INTERelationships_Sustainable Residential Complex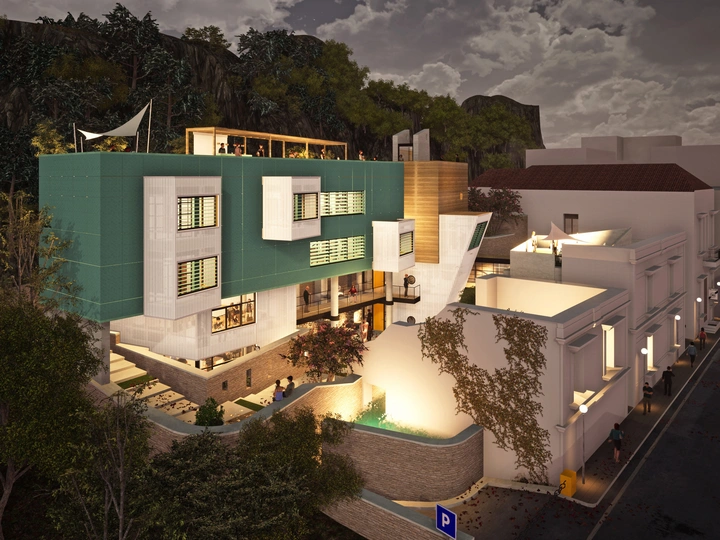 A collective,supported living housing complex with public usages,integrating vulnerable people with joint participation activities with city residents
---
Constantinos Yanniotis, Yanniotis & Associates | Architects & Consulting Engineers
Athens, Greece
Links
Team members
Vasilis Kalopisis
Eleni Maistrou
Konstantinos Xanthopoulos
Yannos Yanniotis
Maria Yarmeniti
Field of work
Architecture, Research
Project category
Raising awareness
Project submitted
2022
The Yanniotis and Associates Bureau is an Internationally Awarded Architectural Firm that has been active in the field of Architectural Design and Planning since 1980. In its long-lasting activity, the bureau has completed a significant number of projects of both small and large scale.
Facing towards the new challenges, the Bureau has expanded its provided services into the fields of Inclusive Design practices, Sustainable Energy Technologies and Integrated IT Services.
---
INTERelationships is a sustainable, collective housing, supported living complex with public usages, hosting vulnerable groups of people while integrating them with work and joint participation in a multitude of activities with city residents. It may thus become a cultural attraction where interpersonal relationships develop through social, cultural and leisure revenue-generated activities, run by tenants. In conclusion, INTERelationships sets the basis of a sustainable dwelling model in which sustainability is defined in terms of Infrastructure, User and Operation Management.
The complex consists of two Residential Unit Blocks and the Stairwell Exhibition Block that houses all circulation paths. The three main entrances lead to the central courtyard which hosts the swimming pool and pool bar, an indoor cafe with creative workshops and the exterior exhibitions that are connected to the ancient masonry relics. The ascending movement towards the planted rooftop of the main building with the cocktail bar and the outdoor screenings, evolves into the Stairwell Exhibition Block, crossing the multipurpose room and the office spaces.
This project aims into demonstrating that UD fits into buildings with modern aesthetics. The synthesis develops around the movement of the passer-by accessing the property, crossing through its heart, and finally climbing up to the planted rooftop. In addition, the redefinition of the Stairwell concept allows this space to host periodic art exhibitions. The relevance and visual contact with the antiquities within the body of the building serves as a meaningful connection between modern and ancient art.
The experience of discovering the building through movement is stimulating and enriched with qualities missing from contemporary cities. The deliberate movement complexity with the diagonal accesses of the bridges and the multilevel outdoor expansions, enhance building morphology and allow the complex to be viewed from many angles.