Encuentro – Tactical Urbanism in Buenos Aires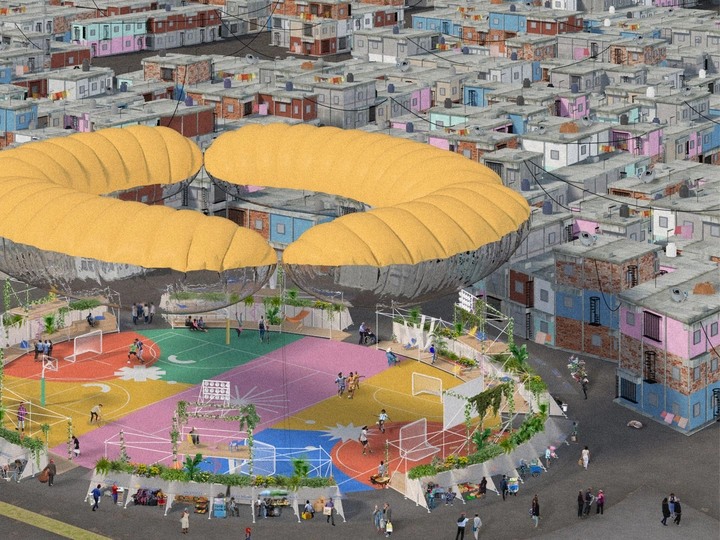 An urban architectural concept in the informal neighborhood of Buenos Aires aiming to strengthen communities in a bright, green and safe environment.
---
Camila Saulino
Verona, Italy
Links
Team members
Alibek Atahanov
Erika Cavallo
Davide Di Bella
Camila Saulino
Field of work
Design, Urban planning, Visual Art, Communication, Research
Project category
Public space
Project submitted
2023
We are a young team of designers, we met during the Bachelor Degree Design studies in Florence, Italy. During that years we started working together on both academic and personal projects, which got enriched with the different specializations pursued afterwards, ranging from service to product, graphic and urban design, but always united by a common vision of enhancing social, cultural and economical impacts on communities. We believe in the bottom-up approach to public spaces, where the role of designers is to provide tools for the communities to shape their own, always evolving, space.
---
Encuentro that takes place at the entrance of Barrio Padre Carlos Mugica (also known as Villa 31), the most iconic informal neighborhood of Buenos Aires, because of its location in the heart of the city, which showcases a huge social inequality. The spot is set just between two realities, represented by business skyscrapers on one side and informal and self-constructed, overlapped houses on the other.
The project aims to generate a space where people with different backgrounds can share a public square, create and strengthen communities through sport and other activities that can take place in a new, bright, green and safe environment.
Encuentro, which combines the term "match" as intended for sports, with the word "meeting" for sociality, represents a tactical popular stadium, a rounded space made of metal scaffoldings and wooden surfaces that create a grid open to free interpretation and personalisation, as the whole neighborhood is build. In this perspective, people can build their own space by bringing some personal furniture and other elements to share with the community. A social urban garden is also included in the stadium, as the whole neighborhood lives in a total lack of green spaces or any vegetation. On the exterior, street market cabins are included for the daily fair that currently takes place in the square. The bright giant balloons above the structure act, both symbolically and functionally, as a stadium roof, floating over the place and making it more visible from the surroundings.