Earth Awareness through Practice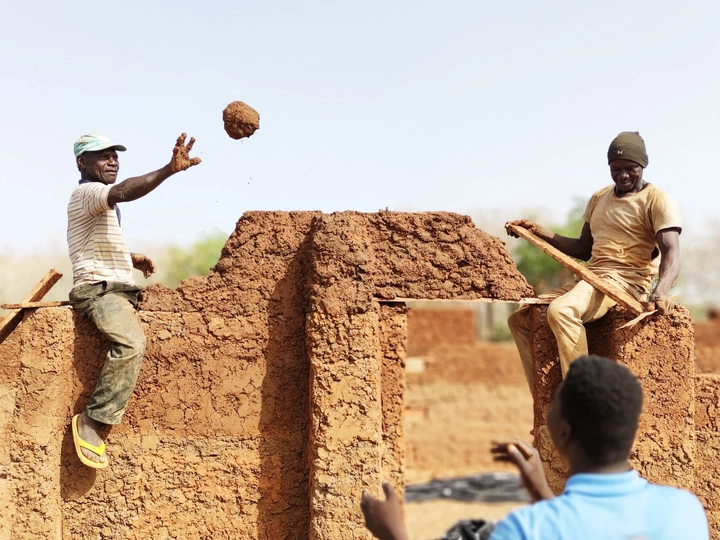 Ananda Earth Atelier is a practice that wants to create a learning platform through hands-on workshops with the use of raw earth & natural materials.
---
Katharina Lehmann
Austria & Slovenia
Links
Team members
Katharina Lehmann
Field of work
Architecture, Design, Photography
Project category
Raising awareness
Project submitted
2023
The motivation and vision behind Ananda Earth Ateliers work is to use architecture as a medium to relink design and craftsmanship with natural & traditional building materials, to strengthen cultural diversity and to foster local economy. The founder Katharina Lehmann deeply believes that we have to act and design in a responsive way, to promote as little environmental impact in the entire building process as possible. Therefore her work is based on a design that respects nature as a core principle, suggests cost effective building solutions, but is represented in a beautiful and harmonious way. The desire to push boundaries, experiment and to go beyond the norm is key element. As well as learning, creating curiosity, motivate and inspire those around you.
Katharina L. received her diploma in architecture at the University of Applied Arts in Vienna. During her studies she did an internship at Acme Architects in London. There she worked on a competition for the Sächsische Aufbaubank, followed by a win. After completing her studies, she started working for ACME again, this time in the newly opened office in Berlin, to realize the project in Leipzig. Katharina has gained valuable experience on earth & bamboo construction sites in Africa. These projects marked a crucial milestone in her professional life. On her return to Europe, she received the TISCHE grant from the Federal Ministry of Austria. This led her to Anna Heringer and her team, where she worked on numerous projects, was involved in site supervision of earth buildings and developed the exhibition "Essential Beauty" at the ICO Museum, Madrid. In cooperation with Martin Rauch, she assisted a 2-weeks rammed earth workshop to build a Pavilion with students from the Harvard University.
Her expertise lies in the artistic development of drafts & handicrafts, project management and on-site supervision. She is a recognized specialist in earth building and started a training to become a certified straw bale builder.
---
A third of the world's population still live in mud houses. For good reason, because it is the oldest building material in the world and has many positive properties. Unfortunately, this knowledge has been forgotten over time and in the course of industrialization. In these times a rethinking is required. Namely, how and with what materials we want to build in the future. This is where Ananda Earth Atelier comes in. We want to inform, advise and initiate earth building techniques and the use of sustainable materials.
Ananda Earth Atelier sees itself as a company that offers sustainable construction methods as a core element for private and public buildings from planning to execution and at the same time acts as a link between planners, craftsman and users through organized participation of people interested in the building process, sustainability, traditional earth building techniques and natural materials.
Our project idea proposes a concept, which is a sustainable, practice-oriented learning platform that consists of hands-on workshops composed with natural materials with a focus on earth and straw. As a result, participants, the community and every citizen of the world encourages that every single one of us can be creator and thus contributes to a positive development in our surrounding.
The workshops can cover both small and large projects. The method should not see sustainability as a lifestyle concept, its rather about that participants should have a profound experience, which awakens an intrinsic desire for further sustainable projects and thinking.
The aim of the project is to create a sustainable environment that is tomorrow and also many generations after us connected; a (learning) network of today, which designs our future.