Epilogue for Venice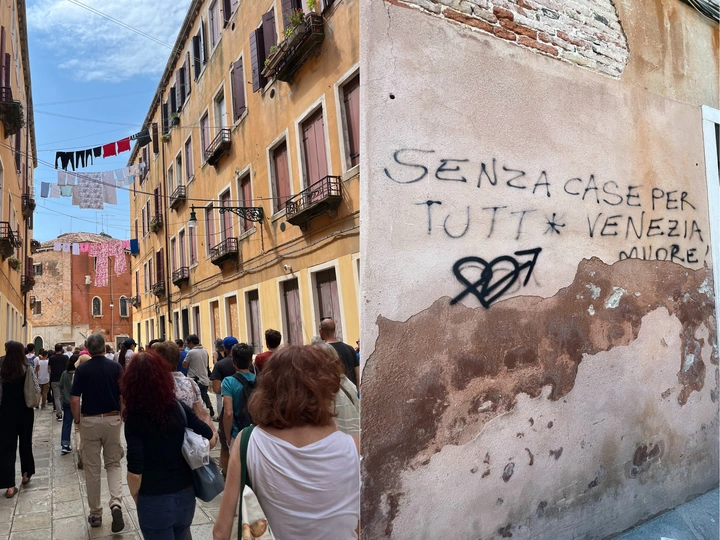 Imagined epilogues for three cities affected by tourism and environmental change, to help us map out urban futures.
---
Catherine Bennett
Paris, France
Links
Team members
Catherine Bennett
Field of work
Multimedia, Communication, Research, Other
Project category
Urbanity
Project submitted
2023
Catherine Bennett is a French-British writer based between Paris and Venice. She writes about technology, cities, heritage, the environment and climate, and has reported for MIT Technology Review, WIRED, Bloomberg and the Guardian. She is a translator and editor at the French newspaper Le Monde and presents a weekly news show for the French-German TV channel Arte. She's interested in how cities can adapt in the face of the climate crisis, ownership of public urban space and housing rights.
---
Can cities reach the end of a life cycle? This project will explore possible epilogues for Venice, Civita di Bagnoregio, Bussana Vecchia and other places that have altered because of tourism and environmental change.
The essay will be divided into three epilogues set in the future, looking at each of these places, the problems they face, and outlining possible solutions devised with local actors.
Venice is being strangled by overtourism and the attendant environmental damage. Residents are leaving the city because of a lack of affordable housing. Civita di Bagnoregio, meanwhile, wears its name as "the dying city" proudly. Built on an eroding rock bluff, it is a major tourist attraction and charges an entry fee. It has next to no residents. Bussana Vecchia was devastated by an earthquake and left abandoned for decades, before being re-populated by a community of artists in the 1960s. Although the artists have now left, its reputation lives on. Visitors buy art made elsewhere; the houses are occupied by tourists; the village has become a simulacrum of what it once was.
This is thanatological tourism. The cities no longer fulfil their function as a place where people live. Visitors' interest in these places is therefore not only morbid but even murderous, as they themselves are contributing to the cities' decline.
So at what point can we say that these cities have definitively died, and what form do they take thereafter? This project will imagine fictional futures for these places, through concertation with residents and local associations (such as 9mq, OCIO and Assemblea Sociale per la Casa in Venice). Epilogues for each city will describe new urban systems that could grow in a post-anthropocentric landscape. We can then draw lessons from these different case studies for our current era, learning how to design associative and social networks and move beyond a cannibalistic model of gentrification, tourism, mass consumption and pollution.