Oasis Capital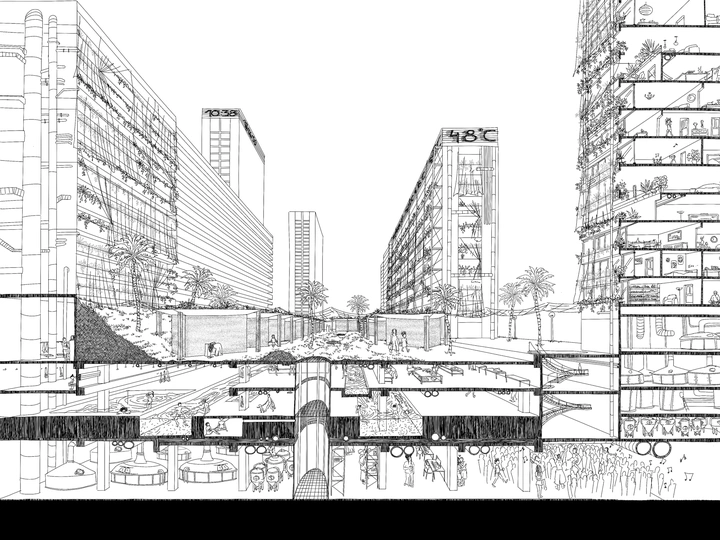 Oasis Capital combines the Parisian urbanism of the 1970s with contemporary climatic thinking projected into 2050.
---
Collectif (in)visible
Paris, France.
Links
Team members
Kenza Ambraisse
Gaspard Basnier
Oscar Basnier
Léo Diehl-Carboni
Lawan-Kila Toe
Field of work
Architecture, Urban planning, Ecology, Research
Project category
Urbanity
Project submitted
2023
Linked since their studies at the Ecole Nationale Supérieure d'Architecture de Versailles (ENSA Versailles, France), "Collectif (in)visible" is a collaborative research laboratory on architectural narratives of the ground and subsoil. The collective has its origins in West Africa, Corsica and the Paris region, and draws on a wealth of experience across the European, African and Latin American continents. The laboratory conducts research into the additive and subtractive force of architecture. Through this reflection, the idea emerges of crossing the variable temporalities of architecture by developing a common narrative between matter, landscape and domestic uses. By exploring a diversity of graphic media, scales and programs, a tailor-made research methodology takes shape.
---
The right to freshness. The Olympiades slab. Located in the 13th arrondissement of Paris, the Olympiades district is home to 3,400 housing units for 11,000 residents.
Making this district a site of transformation and projection for Paris 2050 means turning the heritage of the 1970s into a lever in the face of contemporary climate crises. While urban sprawl may be outlawed, the city remains a place of potential, a territory for projects. Building the city on the city, identifying its constraints, understanding its history, adapting it to its social, economic and environmental climate, while preserving what's already there. The challenge is to turn what already exists into something capable of enhancing and revealing its uniqueness and qualities.
Choosing the Olympiades district means taking a close look at the dense city as a resilient geography, a vector of multiple stories and domestic uses. Combining this topicality with the notion of coolness and rising temperatures, we create a reflection on all scales, from the cell to the metropolitan figure. This diffuse, connected world becomes the basis for new project methodologies and scenarios that will enable us to face the challenges of our century together.
Oasis capital seeks to create a dialogue between past, present and future uses and eras, with the aim of questioning the changes and reflections of our societies, as well as our way of living in a constantly evolving landscape. Thinking about a territory in crisis means first and foremost drawing up its potential and its interactions with the surrounding ecosystem, with the aim of stimulating, revealing and enhancing it.
Switching from a logic of autonomous objects to a collection of objects opens up new perspectives on paradigms, new aesthetics and processes impacting the landscape. Oasis capital expresses the way in which today's ecology influences the world, defining and reinvigorating the notion of the project.