Shared Domesticities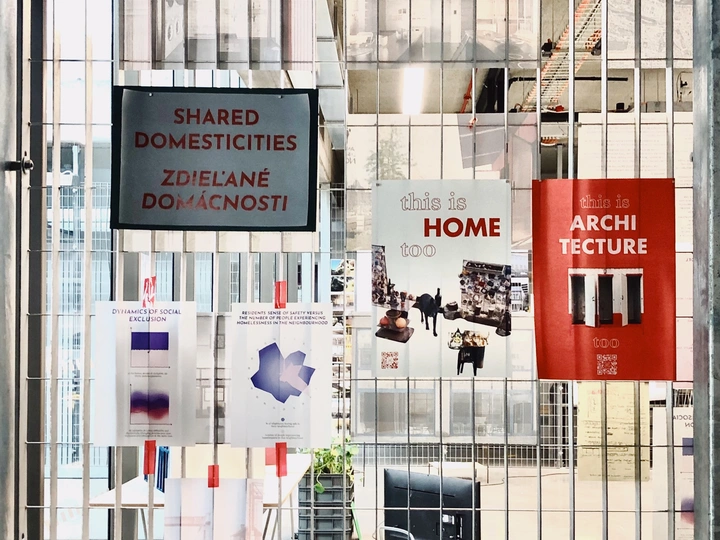 Social infrastructure as an auxiliary tool for mitigating discrimination based on socioeconomic status in public and semi-public space.
---
Links
Field of work
Architecture, Urban planning, Research
Project category
Urbanity
Project submitted
2023
Ema Soukupová (*1998, Nitra, Slovakia) is an architect currently based in Prague, Czech Republic. Her interest lies within the framework of socially sustainable urban environment, focusing on socio-spatial exclusion, processes of discrimination and culture of inhabiting cities.
She holds a BA in Architecture and Urbanism from the Slovak University of Technology in Bratislava and MA in Architecture from Academy of Arts, Architecture and Design in Prague.
---
In 2003, UN-Habitat issued a warning that with increasing urbanization, up to one-third of the global urban population will soon be living in informal settlements, cut off from most public services, access to water, food or housing. The socially disadvantaged ones thus loses the ability to meet their basic human needs with dignity and are forced to do so in provisory conditions. Once the private activities of vulnerable individuals become public, the normally benign practices such as sleeping, defecating, eating, or drinking become problematic, as they are carried out in places that the hegemonic establishment does not intend them to be, making the people target of punitive practices of urban politics.
The platform Shared Domesticities represents an alternative to the dichotomy of private versus public division of cities. The project rethinks these through interventions extending the public space with facilities typical for private households, helping to improve social conditions and prevent the (mostly physical) features on which discriminatory measures are built.
The project introduces a network of social infrastructure in the form of public bathrooms and kitchens. These two facilities serve to satisfy basic human needs and their absence can lead to a range of pathologies - from a sense of loss of dignity, to health complications, to exclusion from mainstream society and problems with reintegration. Shared Domesticities also aim to mediate the coexistence of different social groups based on the specific location, thus seeking to destigmatise the socially disadvantaged.
The system operates on two spatiotemporal layers - interventions are applied temporarily in vacant sites and permanently in public institutions. The permanent ones represent the final stage of the implementation of social infrastructure interventions but require a long time horizon, therefore to meet the needs as soon as possible, temporary kitchens and bathrooms will be built first.