Zooified Hermits in the Colonial Garden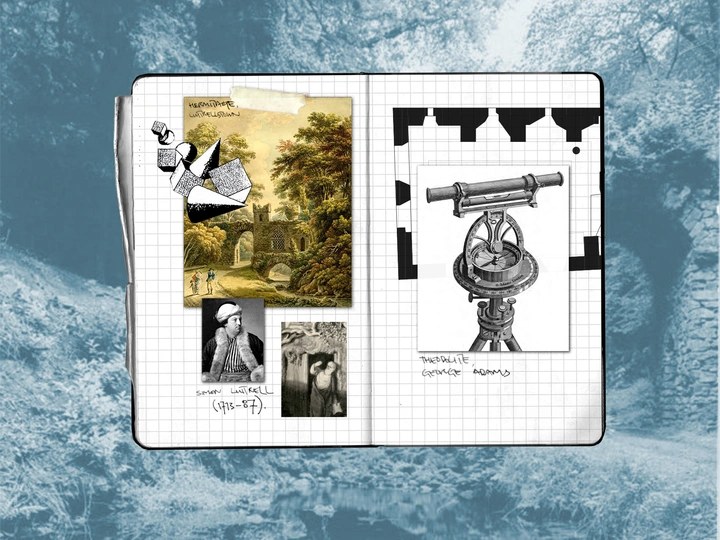 Expanding and revising the 18thC phenomenon of the garden hermit in Ireland. Reframing 'scholarly eccentricity' as colonial objectification.
---
Links
Field of work
Architecture, Visual Art, Research
Project category
Raising awareness
Project submitted
2022
Ben Weir (*1991) was born in Belfast, Northern Ireland. A graduate of the Glasgow School of Art (2015), he has undertaken residencies at the Jan van Eyck Academie in Maastricht (2018-19), Fundació Mies van der Rohe in Barcelona (2019-20), and 3bisF - Lieu d'Arts Contemporains, Aix-en-Provence (2021-22). Ben has taught in the Masters in Architecture programme at Queen's University Belfast, and is currently a Research Associate at CCA Derry~Londonderry.
---
During the British occupation of Ireland wealthy English aristocrats were given titles, deeds to land, and subsidies to build large properties on confiscated land, turning the native Irish population into farming peasants and the aristocrats into landlords. In the 18thC, the aristocrats brought ideas of 'designed landscape' to Ireland in the form of sprawling, naturalistic gardens with artificial lakes, woodland, planting and topography. This was intended both for pleasure and ego, to impress visitors and display one's scholarly pursuits following the Grand Tour. The projects may have produced naturalistic appearances but they were not about celebrating, living in or learning from nature. They were Romanticisations, the picturesque. A captured, carefully composed idea of nature. These landscapes are not simply evidence or built manifestations of colonial rule in Ireland, but of a polemical worldview: that of domination, owned or conquered nature.
Follies were placed as objects in this landscape, to add theatricality, sequence and wit. False ruins, temples and obelisks. This proposal focuses on the Hermitage. Typically a small rustic grotto occupied by a garden hermit, a local person employed to dress in a robe, never cut their hair or nails, read classical texts and pursue a life of simplicity. Visitors were to observe the hermit as a novelty. Often they provided wisdom to passers-by, or in other cases did not 'break the fourth wall' to maintain a theatrical vision of pre-modern life in the wilderness.
Three determined points of investigation:
1 Romanticism and Curation
2 Mimesis and Zooficiation
3 Landlordism and Asceticism
I will address each of these points in the form of a short story, building fictions that shed light on Romanticism as a colonial ideology and the garden hermit as an objectified artefact. I will blend archival research, speculative fiction and magical realism, touching on contemporary issues of the housing crisis and land ownership.