Pomo d'Orographies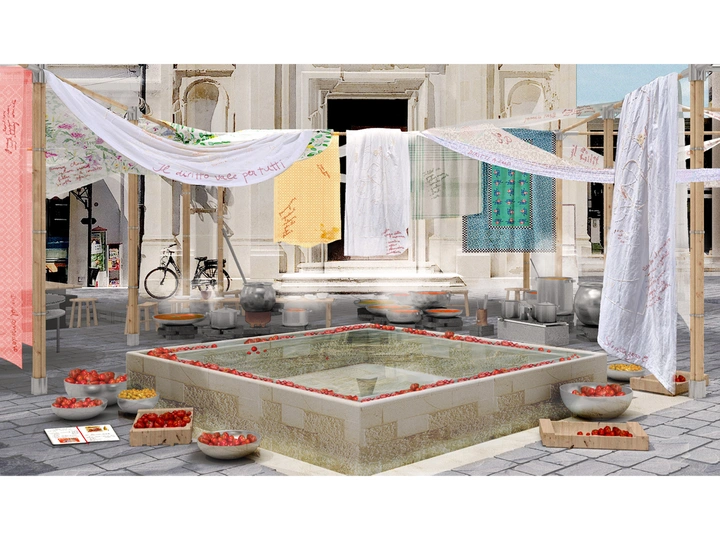 The project proposes to rethink public space and the role of cities in addressing issues on migration and exploitation in agriculture in Italy.
---
Francesca Paola Beltrame
Nardò, Italy
Links
Team members
Francesca Paola Beltrame
Field of work
Architecture, Urban planning, Research
Project category
Food system
Project submitted
2022
Francesca is a spatial practitioner, whose work is research-led and focuses on the potential of addressing governmental policies and unpacking conflicts through architecture and performance.
In 2022, Francesca completed her MA in Architecture at the Royal College of Art with her thesis project Pomo d'Orographies: counter-agronomies of exploitation.
In 2019, she graduated with a BSc in Architecture from the University of Bath and worked for one year at Foster+Partners in London.
---
The project proposes to rethink domesticity, relation and inscription within the social context of the Italian town of Nardò. As a consequence of capitalist agriculture and migration policies, in Puglia migrant workers (the majority originally from West, East Africa and Eastern Europe) are taken advantage of by mafia organizations because of their immigration status. Migrant seasonal farm workers in Italy are made invisible by being kept in constant mobility. Most live in self-arranged settlements referred to as "ghettoes" because they are segregated from the cities and in the middle of fields.
I have been using my grandmother's table as a design practice hosting various workshops: visiting the association Diritti a Sud (Nardò) and people involved in the production of tomatoes in Italy and Ghana. I have used it as a spatial tool to talk about policy by levelling the playing field and inviting people to its space.
The intervention comprises of a series of modifications around and in the central square of Nardò, operating on various temporalities: A permanent communal kitchen for migrants, a Seed Exchange and a temporal communal kitchen in the center of the square where everyone is invited to cook a meal with the surplus produce of that month.
The aim of the architecture is to create space for dialogue and exchange which is lacking at the moment between the migrant communities and Italian society aggravating social inequalities and sustaining a gap between what we eat and pride and how it gets on our plates. The architectural intervention is an escalated version of my tablecloth, posing the potential of such practice and the necessity of alternative ways of relating at an urban scale.
Over time, the central square becomes an alternative space for negotiation and self-governance outside of official and exclusionary institutions of governance. Where everyone is invited in the conversation on agricultural practices and labour conditions of the area.
Fellow
Related events