Social housing in a postpandemic scenario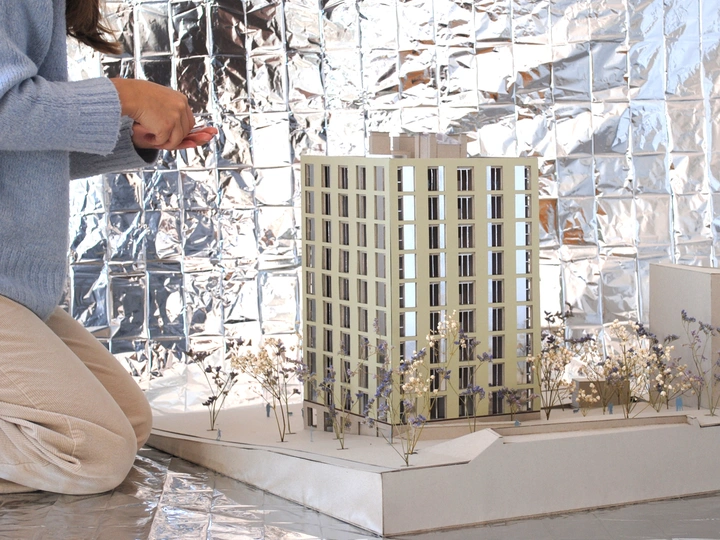 After the pandemic, let's rethink the minimum standards of social housing. Sustainability and budget, but also health, gender, and adaptability.
---
METRONOM ARQUITECTURA
Barcelona, Spain
Links
Team members
Maria Amat Viladomiu
Albert Casas Alvarez
Frederic Villagrasa Alvarez
Field of work
Architecture, Design, Urban planning, Landscape architecture
Project category
Raising awareness
Project submitted
2023
Architecture office based in Barcelona. We develop spatial projects with an atemporal design and a coherent contextual response (environmental, urban, economic, and social). Founded by Maria, Frederic, and Albert. We started working together in 2018. We have been working on private and public commissions. Public commissions:
-SUPERBLOCK in Barcelona. Urban transformation of a road cross in the Eixample BCN. to transform it into a new urban public square. 1st prize
-36 SOCIAL HOUSING FLATS in Barcelona. 1st prize. Design and construction of a social housing tower of 10 stories built in a timber structure
-FREDERIC MARES MUSEUM 1st prize, Barcelona City Council.
Members
- Maria architect by the ETSAB-UPC. She also studied at the Technische Universität Berlin and postgraduate in Business from the Barcelona School of Management. She is now a professor at the School of Architecture of Barcelona and has been a professor at the workshop organized by RCR architects in Olot. She has worked in several architecture offices such as Garcés-de Seta-Bonet, Cadaval&Solà-Morales, and Salas Studio.
- Albert architect by the ETSAB-UPC, has also studied at the Mackintosh School of Architecture, GSA. He has worked in BB+GG, Daniel Mòdol, BAAS, AQ4, BLAU, and Jorge Vidal. He obtained the City of Barcelona Prize for the Academic project done together with Arquitectos de Cabecera in 2015. He has been invited as a teacher at different architecture universities such as the Escola d'Arquitectura de Barcelona (UPC) and the University of Technology Sydney.
- Frederic architect by the ETSAB-UPC, he has studied also at the Pontifíca Universidad Católica de Chile. Currently, he collaborates with the Cultural Institut of Barcelona City Council (ICUB). He is also co-founder of Oasiurbà, a non-profit association improving housing standards, assuring dignified housing rights. He was an assistant teacher of the vertical workshop of Arquitectes de Capcelera and of the UIC University.
---
During the Covid-19 pandemic and due to the home confinement that took place in 2020 throughout Europe, the poor architectural and spatial quality of many of our homes became evident. The limited adaptability and flexibility of domestic spaces for other needs such as exercise, remote work, recreation, etc., and their almost non-existent connection with the outside space came to light. This situation once again exposed the class differences within our society.
Drawing on our experience in designing social housing (winners of a first prize in public architecture for the construction of 36 housing units and various second prizes in the same field), this research aims to be a platform for rethinking the minimum standards that social housing in Europe should meet. Often, these housing projects are heavily constrained by tight budgets and the need to maximize the return on investment for housing units.
How can we incorporate flexible and adaptable designs for all types of families and for other activities (remote work, home exercise, study, etc.) beyond what is traditionally considered domestic?
Beyond small balconies and minimal spaces, these designs can include clearly defined and generously spacious areas, which could be considered as semi-exteriors or exteriors, fostering a relationship with nature and the outdoors. The housing should also address health aspects beyond material sterilization and scientifically quantifiable measures.
Besides discussing the specific measures that new housing designs should incorporate, we can also explore how to renovate and leverage the current housing market to implement these strategies. This could involve utilizing rooftops for outdoor gathering spaces or adding balconies and galleries to existing facades.