Gaia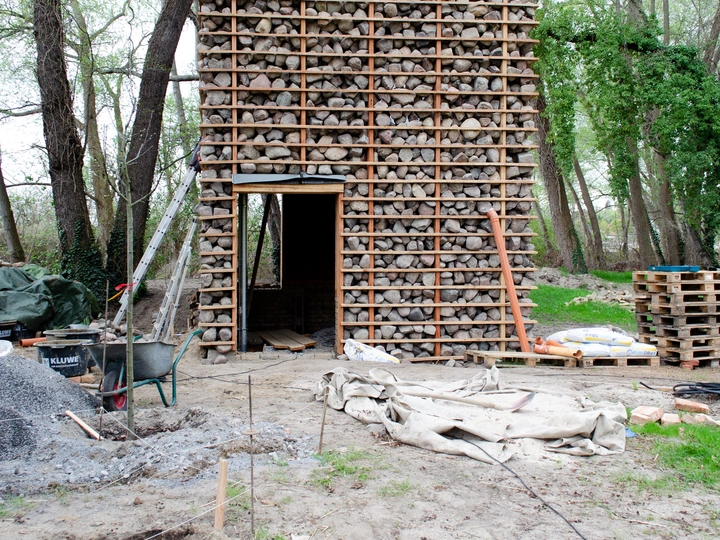 Gaia is a project that proactively contributes to climate restoration. It is a structure that increases rather than depletes biodiversity.
---
undjurekbrüggen
Berlin, Germany
Links
Team members
Michelfelder Aimée
Cotting Christian
Schlatter Emily
Wolters Jakob
Brüggen Jurek
Field of work
Architecture, Design, Ecology
Project category
Rural spaces
Project submitted
2023
undjurekbrüggen is an architectural practice that considers architecture as an immanent part of a common Earth shared with all people, animals, plants and things. Instead of placing individual, human objects in a natural world in crisis, undjurekbrüggen intends to connect the world you live in and the world you live from in one space.
With the aim of not only protecting the Earth, but also caring for it and actively shaping it in a positive way, undjurekbrüggen initiates ecological projects in cooperation with other actors.
These projects can have different formats (building, furniture, text, film, campaign, neighbourhood or landscape), but always deal with the existing in terms of building, ecology, economy, politics, climate and comfort.
undjurekbrüggen's projects, including the Jahreszeitenhaus or Luise 19E, have received various awards and have been published in numerous books and magazines. The Landschaftsmetropole project is part of the IBA network Stuttgart 2027. In the past two years, Jurek Brüggen has been invited to give various lectures and guest critiques in Germany and Switzerland, including at ETH Zurich and TU Berlin.
Jurek Brüggen is founder of the architecture studio undjurekbrüggen (2020), founder of the design label Eins und Viele, co-founder of the architecture collective OFEA Office for Ecological Architecture and co-founder of the development company OFED Office for Ecolgical Developments. The studios initiate, plan and develop a variety of political, ecological and architectural projects on a wide range of scales. The undjurekbrüggen office employs 4 people and collaborates with numerous actors, particularly within the framework of the OFEA collective. In 2020, Jurek Brüggen completed his architecture studies at ETH Zurich. He worked for Diener & Diener Architekten in Basel and Brandlhuber+ Emde, Burlon in Berlin.
---
Gaia is a project that proactively contributes to climate restoration and has a positive impact on the planet and its inhabitants. It increases rather than depletes biodiversity. It is an example for a new way of design and construction - for systemic restoration to enable a post carbon built environment.
A storage building with an office for organic wine, equipment and materials was to be constructed. The building is located in Werder (Havel) near Berlin, close to the lake, on a large meadow and adjacent to a species-rich nature reserve.
In the fields in this region, soil frost has caused stones to be pressed to the surface. The stones were then called field stones. In the past, farmers picked up these stones and built fieldstone mounds. These mounds developed into very species-rich biotopes and provide a special habitat for numerous animals and plants. Today these mounds are protected and it is forbidden to change them in order to protect flora and fauna.
The building is a structure with layered field stones, which again provides this habitat. All materials are completely natural. Besides stones, only wood, clay and recycled bricks were used.
For this project, we have reimagined a collaborative, regenerative and beautiful way to design and construct - with the aim of creating a truly ecological building.
The project was designed by the office undjurekbrüggen in collaboration with the architecture collective OFEA (Office for Ecological Architecture) and built by the construction collective Belwerk of architecture students.