PORTALEN PAVILION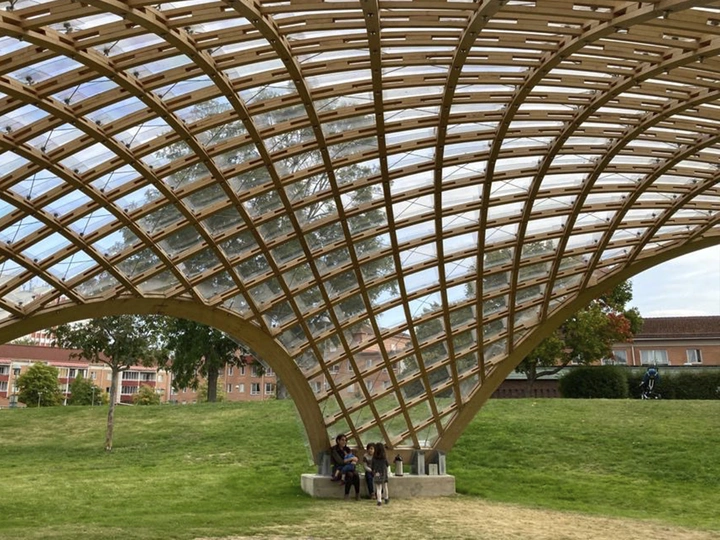 Co-Design of a Gridshell Pavillion with Portalen, an association working for the prosperity of a disadvantaged neighborhood in Norrkoping (Sweden).
---
Map13 Barcelona, Summum Engineering, Edyta Augustynowicz
Norrköping, Sweden
Links
Team members
Edyta Augustynowicz
Marta Domenech Rodríguez
David López López
Mariana Palumbo
Diederik Veenendaal
Field of work
Architecture, Engineering
Project category
Rural spaces
Project submitted
2022
Map13 Barcelona was invited to collaborate with Portalen in Hageby. The neighbourhood is at the outskirts of Norrköping and is rarely visited by the residents of the city. Map13 teamed up with Summum Engineering and Edyta Augustynowicz for the final design, which was a lightweight, deployable, timber gridshell that seeks to cover the maximum space with the minimum material using an efficient construction technique and a sustainable and local material.
---
The project was executed under the programme "Art is happening", conducted by the Public Art Agency Sweden through a national call addressed to the citizens to propose aspects of their everyday lives that could be improved through art. The Agency invited teams of artists or architects to collaborate with the promoters of the ideas in their realisation of the selected projects.
The neighbourhood is at the outskirts of Norrköping and is rarely visited by the residents of the city. Portalen's proposal was to expand the association by building an iconic meeting point aimed at giving more visibility to the neighbourhood and the association. The pavilion would host activities attractive for citizens from other areas of the town. Debates, recitals, concerts, courses, dances, open air theatre… were some of the activities proposed.
Map13 organised two sets of intensive participatory workshops in order to define the neighbours' needs and desires, refine the proposal and translate it into an architectural element.
The Pavilion was constructed during the summer of 2020, and it is used by the neighbours and by Portalen in collaboration with several cultural organisations in Norrköping. From an urban development perspective, this process examines how a grassroots building initiative can work and how the skills and dedication of the neighbours can be harnessed and have direct influence on the shaping of public space.
The Pavilion is now a central meeting point and hosts activities that support neighbourhood life. The participatory process carried out during the design process and the fact that the very first initiative came directly from the neighbours, resulted in the current strong engagement of the community with the building and the activities that happen in it. Furthermore, the unique architectural features of the pavilion, which was supported by the Public Art Agency Sweden as a piece of art, attract citizens and opportunities from other places of Norrköping and beyond.