Alluring Rural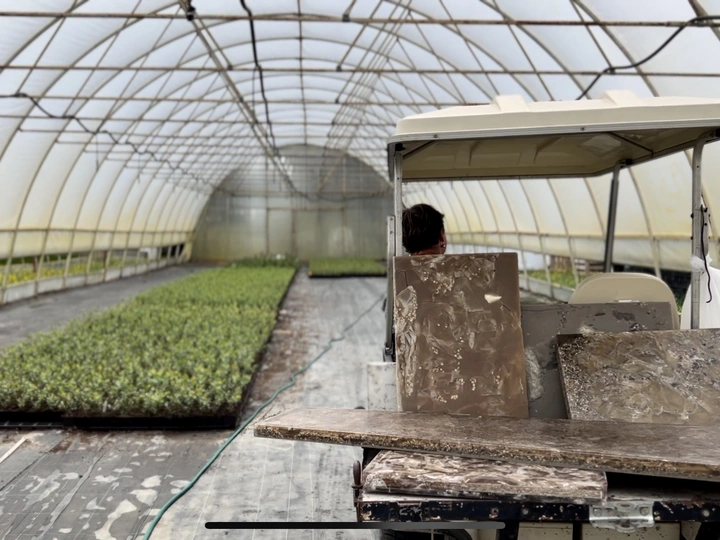 Alluring Rural embraces a fearless, material-focused approach that transforms the undesired matter from agricultural to applied settings
---
Foil&Soil Mishmash
Vienna, Austria & Copenhagen, Denmark
Links
Team members
Magdalena Gorecka
Magdalena Skowyra
Field of work
Architecture, Design, Ecology, Curating, Research
Project category
Material tracking and reuse
Project submitted
2023
Foil&Soil Mishmash is a post-plastic lab, founded by Magdalena Gorecka and Magdalena Skowyra. We examine and transform waste from areas with extensive agriculture from under polyethylene greenhouses. By challenging the perception of synthetic waste and re-imagining its applications, the lab offers a glimpse into a post-anthropocentric future. Our lab establishes a bridge between material science and spatial practices. Foil&Soil Mishmash's recent recognition was during Milan Design Week 2023, where we exhibited our first prototype.
Magdalena Gorecka, an architect and material designer, operates from Warsaw, Vienna, and Tamale, focusing on research, collaboration and teaching. With a Master of Architecture degree from the University of Applied Arts in Vienna, she explores spatial solutions using unconventional materials in marginalized European and Sub-Saharan settings. Her projects bridge urban and material realms, adopting a holistic approach on extreme scales. She gained recognition through Archdaily Building of the Year Award and Masterprize Award for The New Guabuliga Market, Ghana. Teaching at the University of Applied Arts in Vienna, she co-leads an interdisciplinary team exploring Sub-Saharan spatial, cultural, material and ecological phenomena. Recently, she received a grant, collaborating with UNIDO, to design the "Interspecies Nursery" pavilion in Liberia.
Magdalena Skowyra, based in Copenhagen, is an accomplished chemical and medical physics engineer with a vast academic journey. Having successfully completed her PhD at the Department of Health Technology, Technical University of Denmark, she has now embarked on a PostDoc position at the Department of Chemical and Biochemical Engineering, Danish Polymer Center Group. Magdalena's expertise lies in the fields of material science and polymer chemistry, with a strong focus on new materials design, with applications ranging from dosimetry, through the petroleum industry, up to artificial muscles.
---
Alluring Rural marks the inaugural venture of Foil&Soil Mishmash lab, embarking on a paradigm-shifting quest to address the accumulation of undesired matter in areas with a high density of intensive agricultural activities. By embracing cutting-edge, post-plastic matter sourced from agricultural activities and employing strategic spatial, social, and economic methodologies, the project enters the uncharted territory of material exploration and translation. With deep respect for indigenous knowledge, it intertwines far-fetched material and spatial narratives and merges geological eras with contemporary consumerism.
Leveraging agricultural debris and plastic waste (LDPE) from greenhouses, Alluring Rural showcases a commitment to planetary health, fostering community engagement, and restoring ecological balance. Rejecting rural stigmatization, the project envisions transformative bioregions characterized by environmental harmony, cultural significance, and post-anthropocentric material futures. In the Foil&Soil Mishmash laboratory, synthetic and organic matter intermingles with various binders across diverse scales and settings, spanning public, domestic, and productive environments.
The first prototype, an elongated public sitting space, was exhibited during Milan Design Week 2023 in Rossana Orlandi Gallery. As the project advances, collaborating with LERG (Pustkow, Poland), the University of Applied Arts (Vienna, Austria), and the Technical University of Denmark (Copenhagen, Denmark), Alluring Rural ignites dialogues on material futures, spotlighting the highly anthropocentric landscapes of XXI century villages and sub-urban areas. The forthcoming prototype, a post-plastic ceremony pavilion, is scheduled for installation on the campus of the University of Applied Arts in Vienna, Austria.
Fellow