Sensing the City as Commons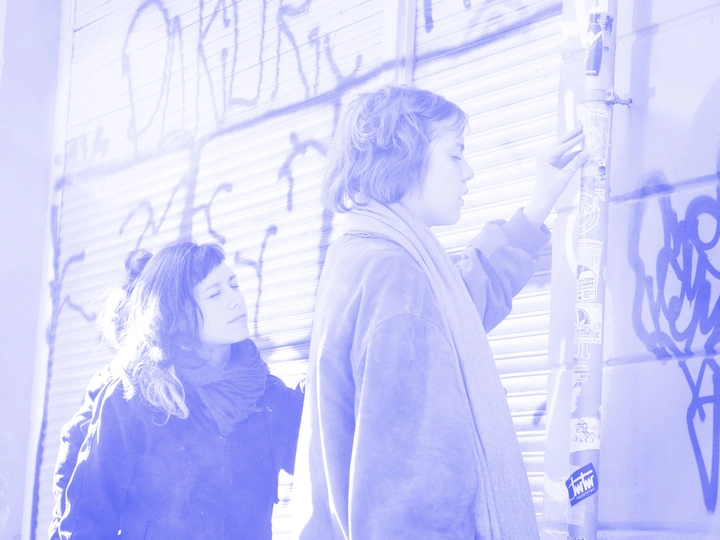 The practice-based research project works across psyche, soma (body), and space to explore embedded/speculative choreographies of the urban commons.
---
Melissa Harrison
Berlin, Germany
Links
Team members
Melissa Harrison
Field of work
Architecture, Urban planning, Visual Art, Curating, Research
Project category
Public space
Project submitted
2023
Melissa Harrison (b. 1989 New Zealand) is a Berlin-based researcher and practitioner working across somatic, social, and spatial practice; transformative pedagogies; and urban performativity and justice. Her doctoral research and practice explored the choreographies of common(ing) space: (un)learning and (un)making the city. Amongst other things, she is a member of the >top project space and association, where she co-organised the project, Common(s)Lab; a member of the Urban Commons Research Collective; a board member of the transdisciplinary research collective, AoA; and a member of the Common Grounds association. She holds an MA in Architecture from the University of Auckland, New Zealand; spent several years working in the profession in both Christchurch and Auckland; and successfully defended her doctoral thesis at the National Technical University of Athens under the supervision of Stavros Stavrides (NTUA), Penny Koutrolikou (NTUA), and Jesko Fezer (HFBK).
Her work has been published in edited volumes, academic journals, and literary publications. She has a diverse record of social practice and public workshops, facilitated in Berlin and elsewhere. Additionally, she is a yoga teacher and dance artist.
Research Interests:
Critical spatial practice; spaces of commoning; cafe-full ecologies; the politics of space and bodies; psychogeographic cartographies; psycho-somatic-socio-spatialities; postcapitalist praxis; transformative/situated pedagogies.
---
Sensing the City is a practice-based research project that builds on previous workshops, held in public spaces in Berlin. The workshops drew on somatic and psychogeographic practices to explore an immersive ethnography of the senses and bodily capacities in and across urban space. These aimed to dismantle normative and codified spatial conditions and perform new understandings and practices of the urban. Urban movement explorations provide a field to explore care-full ecologies of bodies and environments, human and non-human matter, which could foster new forms of subjectivity, agency, and soft resistance.
The ongoing practice-based research traverses the documentary and the forthcoming. It works with poetry, text, psycho-somatic cartographies, and improvisational and movement scores (sets of prompts, guidelines, or tasks) as a communication tool — both to document existing practices and to invite urban inhabitants to explore (common) sense and action in urban space. Improvisational choreographies aim not only at questioning social, spatial, and ecological conditions but also towards new collective experiences of post-human togetherness in the city. The movement scores provide a vocabulary for exploring speculative worlds where fiction can navigate frictions, unmask appearances, question power fields, and offer novel forms of sensing and meaning-making towards social-ecological justice.