FREE MÜHLGANG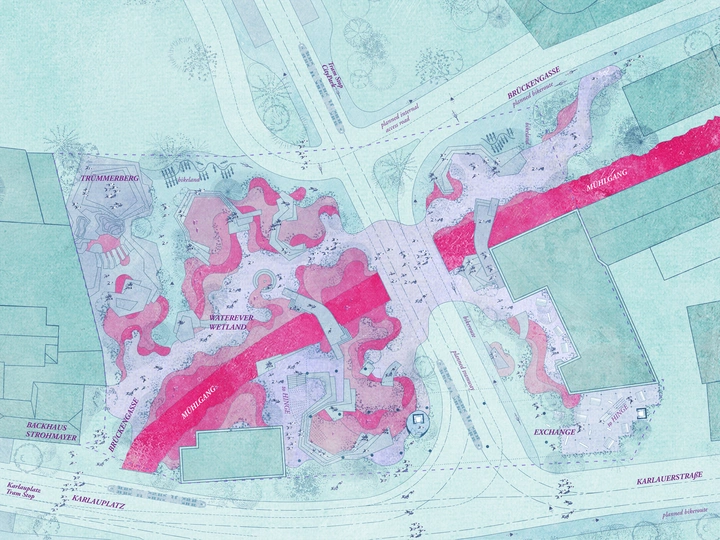 Free Mühlgang curates an unearthing of the invisibilized past of a public space to envision alternative narratives of freedom produced by inclusivism.
---
Free Mühlgang by Mónica Lamela, Violeta Ordóñez, Raquel Ruiz.
Graz (Austria) 47°03'34.9"N 15°25'48.5"E
Links
Team members
Mónica Lamela
Violeta Ordóñez
Raquel Ruiz
Field of work
Architecture, Landscape architecture, Ecology
Project category
Rural spaces
Project submitted
2022
The team met at the Architecture School in Madrid and have since kept collaborating. Through design, they explore and learn other ways of becoming socially helpful and enhance participation, freedom of use, and appropriation. Each of them has implemented projects and successfully participated in a variety of competitions within the architecture offices they have collaborated with. FREE MÜHLGANG is the perfect match to materialize dreams, ideals, programs and concepts they together pursue.
---
The essence of FREE MÜHLGANG lies in a social program generated by its context. The history of Graz through its relationship with water reminds us that the present is an ever changing palimpsest, the result of a superimposition of multiple layers of information—some of them eroded, forgotten and invisibilized. Taking the Mühlgang as a case study, our approach proposes the revitalization of a once thriving waterway—nowadays in danger of being drained by those who claim its obsolescence—resignifying it into a space for experimentation and a connecting organism between past, present, and future.
Our proposal liberates the canal to create an inclusive public green-blue corridor that links the existing Volksgarten and Oeverseepark with our site. Liberating the Mühlgang from its current containment, we create a playful wetland (Waterever) to support its own urban and wildlife. Revisiting the Roman thermae, we define a permeable elevated gateway (The Hinge) to house an inclusive program based on environmental awareness, alternative models of consumption, gender equality, and LGBTQIA+ identity development.
Both the wetland and thermae advocate for deeper interconnections between nature and human experiences through time. Like the course of a river, FREE MÜHLGANG will gradually sediment with the passage of time: different meanders will appear as the project gradually adapts to new consumer policies, to its new human and non-human inhabitants, to the new and changing urban and wild lives that it hosts, to the drift of society and to climate change. In doing so, the project seeks to continue and augment the historically participatory trajectory of Graz, giving a leading role to minority groups that may have been previously excluded.