The Inclusive Marketplace in Mitrovica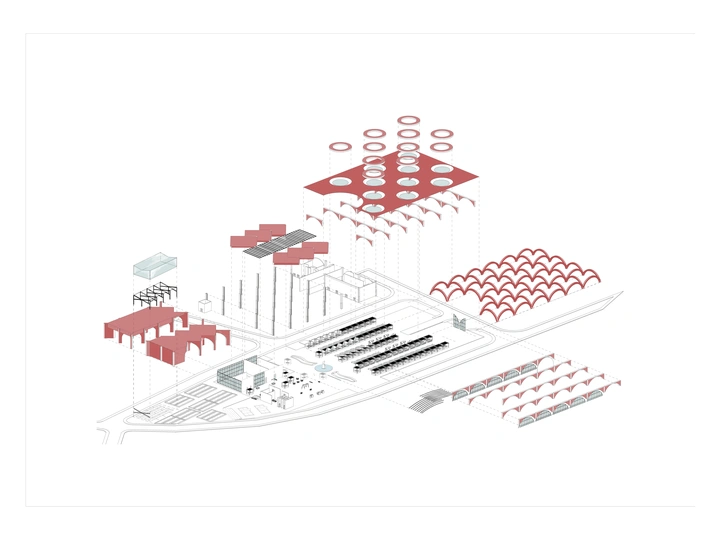 Embrace. Connect. Thrive. The Inclusive Market Place : Where unity and diversity flourish.
---
UPristina
Prishtina, Kosovo
Links
Team members
Bleonë Blakcori
Dafinë Gashi
Gentrit Hoti
Field of work
Architecture, Design, Urban planning, Landscape architecture, Photography
Project category
Public space
Project submitted
2023
We are a team of three students, currently studying in our second year of masters in the University of Prishtina. Our work moves in a transdisciplinary field between architecture, design, urbanism and engineering. Throughout our work, we try to have a research-oriented approach thus creating more sustainable, problem solving and creative solutions for all architectural challenges.
---
The Inclusive Marketplace in Mitrovica is a project that aims to create a vibrant and welcoming space for people of all races,religions and nationalities. Located near the Iber River,this marketplace is designed to transcend the historical divisions and conflicts that have plagued the city.The city is divided by the Iber River,with the northern part predominantly inhabited by Serbs and the southern part predominantly inhabited by Albanians.These divisions have had significant social,economic and political implications,making it challenging for communities to interact and reconcile.This project aims to address these divisions and foster unity by creating a shared space where people from different backgrounds can come together.The use of materials from both Serbia and Kosovo,symbolizes the coming together of these regions,providing a sense of belonging and ease for everyone involved.At the heart of this project lies the powerful symbol of an arch.Extensive research has revealed the profound significance of arches in various cultures,serving as a universal symbol of togetherness, inclusivity and connectivity. The incorporation of this architectural element into the marketplace's design embodies the vision of unity and breaking down barriers within the community.The marketplace boasts a diverse range of features and amenities that cater to the needs and interests of its visitors.Also,the marketplace will integrate sustainable practices through a greenhouse and open space produce area.Visitors can learn about environmentally friendly farming techniques,contribute to local food production and witness firsthand the connection between nature and the community.Cultural events,performances,workshops and exhibitions will be organized, to respect, and appreciate diverse cultures.Through these initiatives,the marketplace will become a catalyst for positive change and community empowerment.