Tailoring camouflage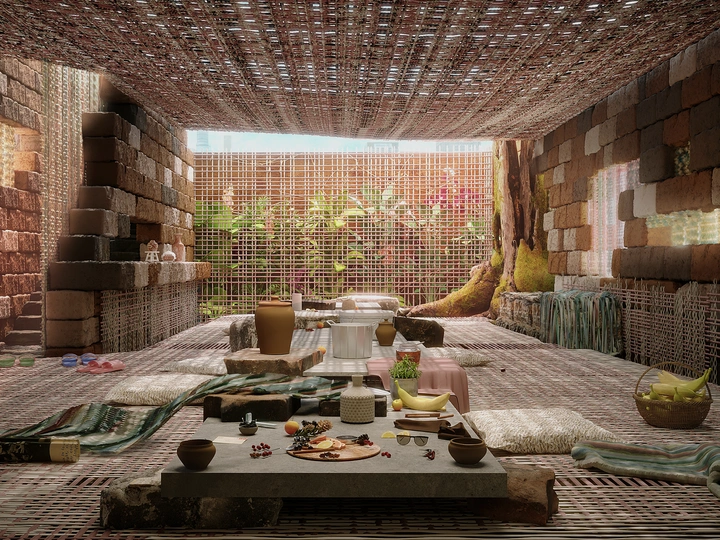 A portal to the Amazon forest. A reflection on the communion between nature and ritual, body and earth through female performative occupation.
---
Links
Team members
CLAUDIA ROBALINO
Field of work
Architecture, Urban planning, Ecology, Research
Project category
Raising awareness
Project submitted
2023
Claudia is a research-led designer focusing on addressing human-nature interrelations through architecture and sensorial experiences. Working across multiple scales of intimacy, her work intertwines cycles of growth and self-sufficient food practices to unravel the conflicts existing within the paths that have been colonized in vulnerable ecosystems. Through oral memory, rhythm and temporality, her practice explores new material expressions and performative occupations by transcribing data between digital and physical mediums. Growing up in Ecuador exposed her to multiple rituals of interrelation between body and
earth, indigenous and Western worldviews, and femininity and preservation, all of which gave form to "Tailoring Camouflage" an ongoing research project exposing the importance of cross-cultural dialogue to understand expressive camouflage as a form of inhabitation, domestication and preservation of the Ecuadorian Amazon. This project started as her MA thesis at the Royal College of Art, was nominated for the RIBA Silver Medal Prize and won the Head of Programme Prize. She continues to explore the encounters between nature and ritual through the garden archetype as means to grow a space rather than building one; to host moments of exchange within a more-than-human perspective. Her practice focuses on the quotidian, designing with natural materials within a temporal and spatial framework.
---
Oral histories and present-day documentation are the tools used to explore the role and value of Huaorani Women, both as nurturers and constructors of the Amazon forest. The work proposes the methodology of "expressive camouflage" as a form of self-sufficient inhabitation resulting in a parallel understanding of a chakra as a garden of knowledge dislocated to the Andes. A cultural typology originating from the various indigenous communities of the Amazon and a self-sufficient ancestral strategy. The garden is occupied mainly by women, symbolizing the interconnection of living things, a place to host memory and ritual. Most significantly the ritual of weaving. Through spatial interventions, the garden encourages impenetrability and confusion, offering space for complex relationships and disparate knowledge to coexist. The Yasuni Park is approached only as a data bank, while the project intervenes in Quito as the first form of interaction with a distant territory. Engaging with a foreign heritage through observation and collaboration. As a whole, the Chakra is a frame for human coexistence, shaped by cycles of equinoxes and solstices, sunrise and sunsets, births and deaths, moments of harvest and storage. Yucca, Chambira, Platano and Cacao are the key crops used in the daily life of Huaorani People, they are the bases for nutrition, construction, leisure and spirituality, and the foundations for indigenous knowledge. Nurtured through corporeal rhythms - or SASINA- these species characterize their daily life interconnecting the rituals of weaving with the role of transmission. The work maps a critical "moment", questioning our role as outsiders in the preservation of the Amazon. Finding acceptance of the inherent contradictions which arise from the interaction between indigenous and Western realities.