Through the lens of the greenhouse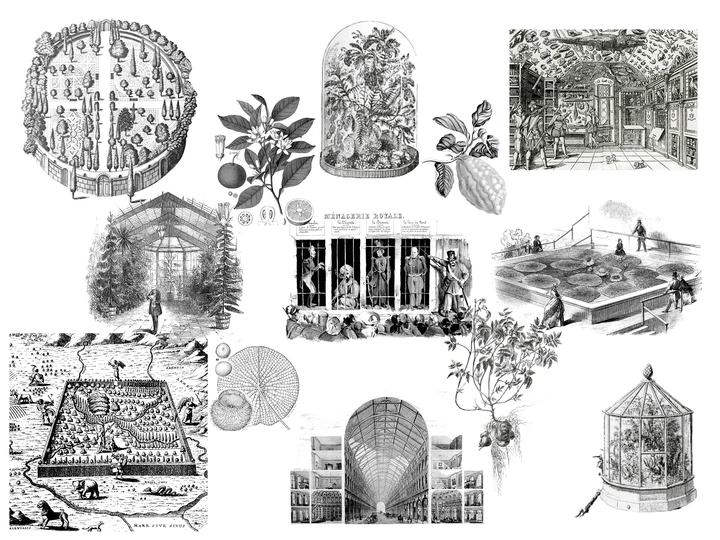 Cartography of the development of the greenhouse: a tool to understand and renegotiate the divide between human and non-human.
---
Narrative Cartographies
Madrid, Spain
Links
Team members
Chiara Dorbolo
Mariacristina D'Oria
Field of work
Architecture, Landscape architecture, Ecology, Curating, Research
Project category
Raising awareness
Project submitted
2023
Narrative Cartographies is a transdisciplinary practice with an international vocation, born from the encounter between Mariacristina D'Oria and Chiara Dorbolò in the city of Madrid. At the crossroad between research, architecture, landscape and urban design, storytelling, critical cartography, and participative community engagement, we seek to explore and challenge the limits of the spatial disciplines. We aim to do that by combining our professional experience in academic and divulgative writing and editing, our skills as spatial curators, designers, and our careers as lecturers.
Mariacristina D'Oria, architect and Doctor Europaeus (Units, Trieste; ETSAM, Madrid), works at the intersection between architecture, urban practices, and landscape, with a specific interest in transient spaces. Through her doctoral research, Mean Time. Expiring Architecture, she explored the entanglement body, trauma, and architecture, while deepening her understanding of transdisciplinary approaches by participating in seminars at the University of Utrecht and at the Institute for Postnatural Studies in Madrid. Recently, following her ambition to intertwine design practice and theoretical investigation, she has been involved in the redevelopment of complex urban areas in Italy. In 2021 her work "Expost. Recycling the event, the event of recycling," was published by Libria Ed.
Chiara Dorbolò is an architect and researcher working at the intersection between storytelling, criticism, and design. Since 2017, she has been a contributing editor at Failed Architecture, an Amsterdam-based platform committed to opening the spatial discourse to the general public. In collaboration with Future Architecture Platform and DPR Barcelona, she curated the Architecture Bookfair 2021. She was among the recipients of the Talent Development Grant from the Creative Industries Fund NL and her book "Liminal Places. Seven Spatial Stories to Return Home" was published by Onomatopee in 2022.
---
The built environment tells stories of man against nature. One of these stories can be narrated through the architectural typology of the greenhouse.
Since the 17th century, the greenhouse has embodied the complex relationship between human and non-human. Combining imagery and pragmatism, leisure and sustainment, the type went through profound shifts in function and meaning: from a wunderkammer where to immerse oneself and experience an exotic world, to a production machine occupying huge territorial regions; from an instrument of colonization to an utopian solutionist approach to climate change.
Considering the bordering potential of the typology, we will look at both its physical manifestation as a threshold device and as its political, economic, social, and environmental implications. As a crucial tool to climate control for the artificial production of nature, greenhouses are the quintessential instrument of human control over the non-human. Greenhouses can be interpreted today as ambiguous territories, embodying simultaneously the frontier of encounter and the ground of conflict. In the space they define, a new, more comprehensive relational system can emerge - one where humans, non-human and non-living entities could overcome existing hierarchies together and find new modalities of cohabitation.
In order to test our ideas in our immediate surroundings, we started by reconstructing the lineage of greenhouses in and around the city of Madrid. This process unveiled a network of relations that connect their evolution with the development of the divides the city represents: between inside and outside, urban and rural, artificial and natural, and ultimately, between human and non-human. With the ambition to make this network of relations visible, and use it to start a necessary conversation around the relationship between human and non-human, we wish to expand our research and share it through a publication, an exhibition and/or a series of public talks.