Not Quite California Wonder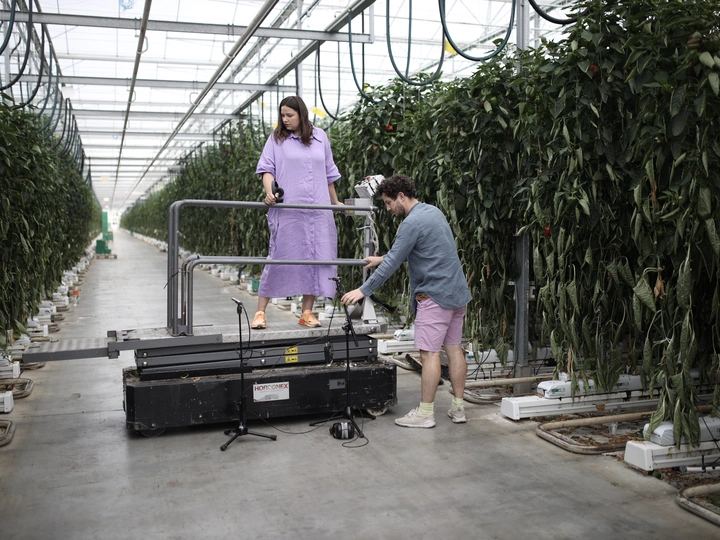 Not Quite California Wonder explores the entangled environmental role of bell peppers as food, industry, political power, and ecological catalyst.
---
Fuzzy Earth
Budapest, Hungary
Links
Team members
Gréta Tekla Gedeon
Sebastian Gschanes
Field of work
Architecture, Landscape architecture, Ecology, Multimedia, Research
Project category
Food system
Project submitted
2023
Fuzzy Earth is a creative practice formed by Tekla Gedeon and Sebastian Gschanes. We operate at the intersection of architecture, design, art, ecology, and technology, while our mediums go beyond these categories. Fuzzy Earth builds alternative worlds and reveals unseen layers of entanglements across species in the era of climate crises to inspire a more inclusive and resilient future. We create spaces, objects, and events that explore our relationship with nature and technology. Through the application of speculative design methodologies, our work challenges the role of ecological environments, industrial landscapes, and botanical institutions. We cultivate invisible systems of togetherness, hope, kinship, and community.
Tekla Gedeon was trained as an architect in London at the AA School. She is researching ecological storytelling methods at the doctoral school of MOME in Budapest.
Sebastian Gschanes is a gardener, landscape architect, and horticultural researcher. He works as a researcher at the MOME Innovation Center.
Our projects infiltrate unexpected spaces such as market halls, sandy beaches, domestic spaces, and gardens. Our animation film about generational guardianship, the Extended Forest was exhibited at the Somerset House part of the London Design Biennale: Design in an Age of Crisis (UK, 2021), at the Espronceda Institute of Art & Culture in Barcelona in the framework of the Sustainable views show (ES, 2021) and at Aarhus School of Architecture part of The School in Real-Time lecture series (DK, 2021). Our research-based project, titled Not Quite California Wonder was displayed at Igor Metropol (HU, 2020), at the Budapest Design Week (HU, 2020), at the Off-Biennale (HU, 2021) part of the Menü Imaginare exhibition, at PLACCC art festival (HU, 2021) in Budapest, and at A4 part of the White Night festival in Bratislava (SK, 2022). Among others, we launched a new public sculpture, called Shimmer, at Gárdonyi square, Budapest (HU, 2021).
---
Not Quite California Wonder is an ongoing research-based project that explores the entangled historical, social, and architectural relationships within greenhouse cultivation practices. Through the medium of film, artifacts, spatial installations, and events, the project aims to bridge the gap between the alienated consumer society and spaces of food production. In light of the global food and climate crisis, it is crucial to focus our attention on food systems since the modes of production, distribution, and consumption of food have become one of the main challenges for the coming decades. Automated greenhouse systems cover larger and larger parts of Europe, still, the public understanding of them is often limited.
Throughout the research, we work in close collaboration with agricultural engineers, botanists, and farmers to uncover alternative experiences of contemporary agricultural spaces. We joined a plant protection engineer to explore the insect population of a greenhouse in Szentes, we spent a harvest day with a bell pepper farmer at Pamhagen; we mixed powder-based nutritions and fed an entire greenhouse of plants with a single click.
As part of rethinking our relationship with bell peppers collectively we host food, narrative, and experience-based events. We held a series of participation-based workshops at Kunsthalle Bratislava (2022), OFF Biennial Budapest (2021), and Budapest Design Week (2020) focusing on alternative modes of production, distribution, and consumption of food using speculative design methodologies. Momentarily, we are developing a carpet installation to allow visitors to discover the hidden facts of greenhouse environments through a sensorial experience where each frame, symbol, and pattern is carefully located and designed to draw out the - natural, technological, or material - kin of the Capsicum plant and to highlight their dynamics as well as their changing relationships with their environment, both in time and in space.