dining.traces.layers.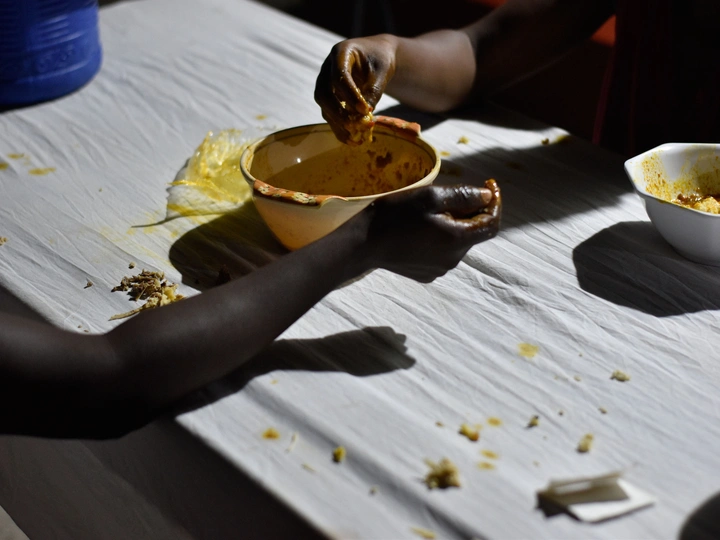 An art research project that reflects spatial dialogue through act of dining and builds awareness of its complexity.
---
Barbara Gocníková
Štúrovo, Slovakia
Links
Team members
Barbara Gocníková
Field of work
Visual Art, Research, Other
Project category
Raising awareness
Project submitted
2023
I am a multidisciplinary artist from the Slovak-Hungarian border working with an expanded forms of printmaking, installation, object, photography, video and writing. My artistic research focuses on communication between me - subject and surrounding - object, understanding a phenomenon of dwelling, the role/position of the subject in relationship with an environment. The aim of my research is to find an intersubjectivity of the perception of the environment in which we find ourselves and by artistic practice demolish the walls between an object of art and perceiver, through offering a direct contact with the artwork with the interest of engaging all the (physical) senses of the observer – building a sensitive communication between perceiver and piece of art as a living experience. My practice is always based on personal and often very intimate experiences which I analyse and extend to the wider public, where a personal and intimate topic becomes a generally shared issue. I am fascinated by the tension between the mental and physical, between private and public, sacred and living spaces. I hold a Master's degree of the Academy of Fine Arts and Design in Bratislava. I also studied at the Academy of Fine Arts in Gdańsk and Tokyo University of the Arts. I'm the author and administrator of the SPLEEN exhibition project, supported by the Slovak Art Council in 2021. I participated in the Bridgeguard artist residency program in Slovakia. I collaborate as a production assistant for filmmaker Mattia Mura's documentary series "Breakfast over the bridge" since 2020. My solo project "cafuné-you" and site-specific installation "sent but never received" was exhibited in Lisbon in 2022. I worked as assistant at the Hangar art research center in Lisbon. I'm also a member of the selection committee for the Arquiteturas Film Festival in Porto, Portugal, and Cecinema film festival in Cecina, Italy. In 2023, I participated in the perfocraZe Artist Residency program in Kumasi, Ghana.
---
The dining table, as a multifaceted symbol, reflects broader social, political, cultural, and economic issues while serving as a catalyst for community-building and relationship-building in my artistic practice.
The art research project stems from a profound personal journey, wherein I questioned the value and essence of family, as it never felt cohesive to me. Seeking answers, I immersed myself in diverse communities during my travels and various living spaces. Placing a white base - "tablecloth" - during communal dining with direct interactions with community members, I document the imprints left by participants, fostering awareness of our interactions within space and its communities.
Traces and imprints left by participants on the "tablecloth" become compelling documentation, shedding light on the imprints we leave behind in daily interactions within space, environment, and communities. Collecting these prints from diverse cultural, social, and economic spaces, the project aspires to create a diverse juxtaposition of resources, culture, and principles of community values, all woven together through the profound ritual of dining.
The art research project is an ongoing endeavor with the aim of building a larger final artwork - collections of prints, personal stories, video, and photography documentation of interactions - that reflects the diverse processes of dining and the understanding of community, both of which are influenced by the environment in which they are collected. The project seeks to unveil overlooked aspects of our living spaces, revealing their profound impact on our lives and relationships.