UR HOUSE (Microhouse for refugees in Ukraine).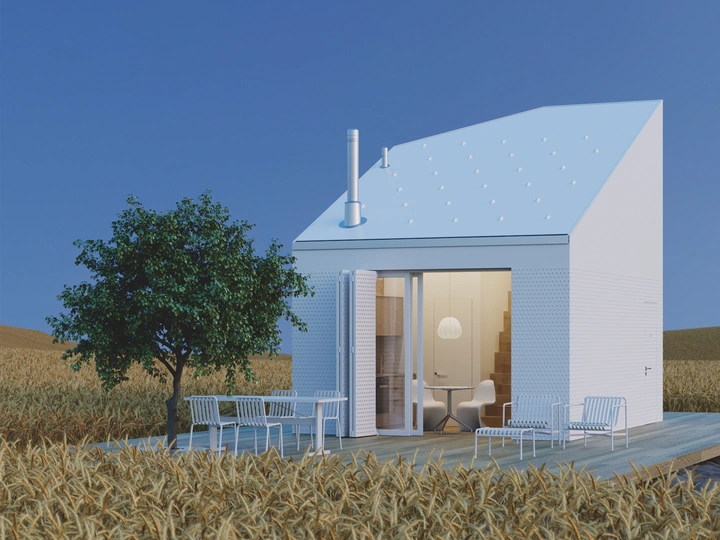 Rethinking human housing needs in times of war and global environmental challenges: the philosophy of "less is more" in action.
---
INAKSHI architects
Kyiv, Sumy, Ukraine
Links
Team members
Tymur Chebannyi
Olena Dovgopolova
Field of work
Architecture, Design, Ecology, Curating, Research
Project category
Material tracking and reuse
Project submitted
2023
Our company was founded in 2012 in Donetsk. Due to Russian aggression, we moved to Kyiv and Sumy in 2014.
We are engaged in architectural design of residential and public buildings, interior design and industrial design. We are certified to design buildings of any complexity in Ukraine.
We were among the first in Ukraine to use BIM technologies, programming in architecture (visual programming), and parametric architecture in our work.
As architects, we feel responsible for our work. In 2022, my colleagues and I founded the «Slobozhanske konoplyarstvo» cluster. We research, grow and manufacture products from local industrial hemp. We also participate in research to develop new environmentally friendly innovative materials.
We operate both in Ukraine and in other countries (Poland, Slovakia, Israel, Czech Republic, Spain).
We are members of the board of the National Union of Architects of Ukraine in Sumy region.
Our company supports startups in Ukraine: we develop branding for young entrepreneurs free of charge; we have already implemented more than 30 successful business projects.
Since the beginning of the Russian aggression against Ukraine, we have been one of the founders of the Ukraine Plus charity project (https://ukraine-plus.com/), which helps Ukrainian architects and builders who are currently in the military.
We have our own workshop for experimenting with materials (CNC machines, 3D printers).
As architects, we understand the social demand for the next decade: we need to provide people with high-quality, environmentally friendly, economical housing and public spaces. To do this, we need to produce our own products from local raw materials to preserve the concept of sustainable development. We are already working on the creation of hemp acoustic panels, hemp building blocks, and a replacement for classic sheet furniture materials. We have chosen to become an architect working on socially important projects.
---
Since entire towns and villages in Ukraine have been destroyed, our concept has been adapted to form both cottage developments in the city and individual houses in villages. The archetypal, simple form of the house was chosen for several reasons: to organize the space efficiently; to reduce the design and construction time; but our main motivation is to rethink the traditional form of the Ukrainian country house. The classic white color of clay facades inspired us to develop the idea of a typology of volumetric facade panels made of industrial hemp (fiber) and lime. The white volume of the house dissolves into the vastness of the endless Ukrainian steppes.
The planning solutions of the house were based on the basic needs of a family of 2. The ground floor includes an open living room and kitchen space with panoramic views of nature and a terrace. A bathroom, technical room, storage area, and a hidden cantilevered window area were all located on the ground floor. The second tier is devoted to a relaxation area with a large window above the bed on the roof slope. There is also a spacious work area with a projector screen hidden in the floor for watching movies on the bed.
Structural scheme. The house has a timber frame, the enclosing structures are made of technical hemp and lime. Energy-saving argon-filled double-glazed windows and an air recovery system enhance the overall energy efficiency of the house.
Depending on the region where the house is located, we use different alternative energy systems. This project involves the use of Flowers Wind Turbines.
The concept of the house's interior is based on preserving materials without finishing - a minimum of artificiality, maximum naturalness. The bathroom is decorated with recycled plastic panels from «The good plastic company». The small space makes it possible to choose higher quality and more expensive materials, favorite iconic furniture, and lamps that will serve for many years.