Endless Becoming of Seaside Resorts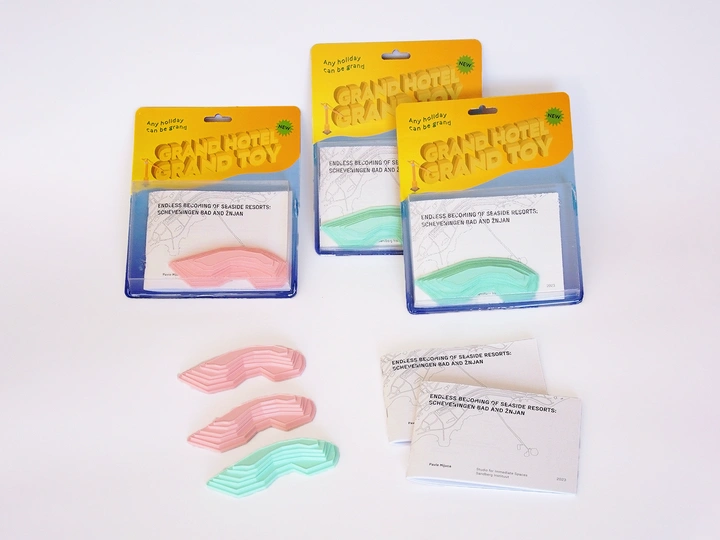 Project that delves into the phenomenon of coastal development, examining and analyzing Scheveningen Bad in the Netherlands and Žnjan in Croatia.
---
Pavle Mijuca
Amsterdam, the Netherlands
Links
Team members
Pavle Mijuca
Field of work
Urban planning, Visual Art, Communication, Research, Other
Project category
Urbanity
Project submitted
2023
I am currently participating in the Studio for Immediate Spaces at the Sandberg Instituut in Amsterdam. Prior to enrolling in this masters program, I pursued my studies at the Fine Arts Department of Zurich University of the Arts. There, I received the BA Grant Award for my graduation project titled "Full of New Beginnings." The project delved into the impact of tourism on urban planning in Split, Croatia. This exploration sparked my interest in various urban planning issues prevalent in the post-Yugoslav region, such as gentrification, unregulated planning, and mass tourism. To investigate these problems further, I honed in on two significant phenomena consistently observed along the Croatian Adriatic coast: betonization and apartmentization. My research methodology involves examining urban plans, online portals, and forums. As an artist, I primarily work with textiles, incorporating the findings from my research directly into this medium. I employ digital illustration to produce designs that are printed on various textile materials. As an artist and researcher, my intention is to sustain these practices through urban studies research and creating textiles. Since joining the Sandberg Instituut and relocating to Amsterdam, I have expanded my research scope to include the Dutch coast. I am currently investigating both the Adriatic coast and the North Sea, aiming to draw comparisons, identify similarities, and gather knowledge from these contrasting yet similarly affected coastal regions heavily influenced by mass tourism. Currently, my objective is to engage in research that explores potential futures and solutions for the environment, with a particular focus on coastal regions. My primary concern revolves around combating the detrimental effects of overdevelopment, which pose threats to nature, resources, and urban life. It is imperative to bring about change that both preserves nature and facilitates the coexistence of industries like tourism.
---
"Endless Becoming of Seaside Resorts: Scheveningen Bad and Žnjan" is a work that delves into and examines the phenomenon of coastal development on the examples of Scheveningen Bad, the Netherlands, and Žnjan, Croatia. This work is a continuation of my research on the topic of coastal planning in Croatia, which emerged as a response to the ongoing crisis of overdevelopment, unregulated city planning, and apartmentization. It took shape as site-specific research when I relocated to the Netherlands and became intrigued by what I had observed along the Dutch seaside. The work comprises two parts: a research paper and a toy packaging in which the paper is packed. The research paper juxtaposes the histories of both maritime domains but also seeks to uncover their similarities and specificities. The outcome of this research revealed that these two coasts are contrasting, yet similarly and heavily affected by mass tourism. The Croatian Adriatic coast, famous for its islands and pristine nature, is currently experiencing overdevelopment and undergoing great regulation shifts in the domain of coastal development. Upon learning about the most recent bill of the Law on Maritime Property and Seaports the Croatian government is presently adopting, the project became an immediate response to this shift. It aims to foster a critical approach towards problematic articles of this bill, which not only allow the fencing-off of maritime properties but also pose threats to the natural environment. As a result, my project became an integral part of the efforts to raise awareness among the local population regarding the importance of legislation controlling mass tourism, while emphasizing the need for maritime domains to remain public property under Croatian Law. Additionally, the project envisions potential scenarios and solutions for sustainable development and responsible coastal planning in both locations.
Link: https://files.cargocollective.com/c1900618/research_paper_final.pdf