You've made your bed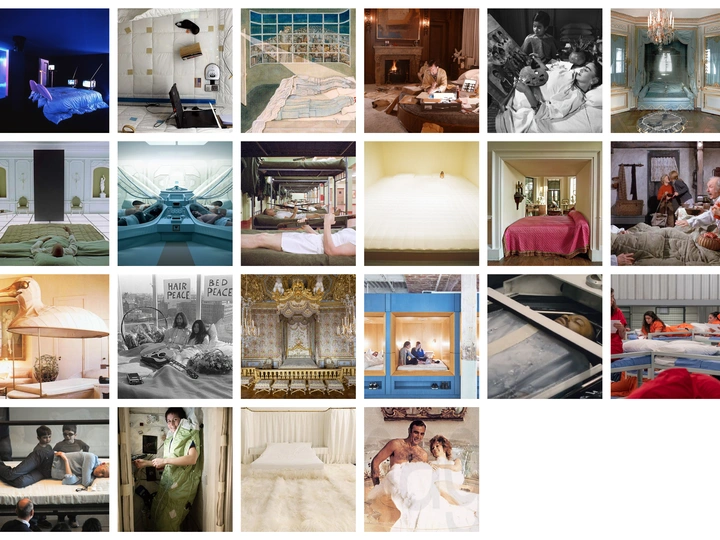 A five-day workshop around the bed, toward a deconstruction of the patriarchal domestic canon
---
minor architects
Paris, France
Links
Team members
jaïdi lina
perron paule
Field of work
Architecture, Design, Film, Curating, Research
Project category
Raising awareness
Project submitted
2023
minor is an architectural collective, working on projects of various scales and forms, from scenography to building construction, as well as research and teaching activities. Founded by lina jaïdi and paule perron, minor seeks, through each of these forms of expression and intervention, to question the way we act in the "landscape of our constructed mistakes", following the words of Donna Harraway. Its world delves into the strangeness of our contemporary built environment, to interrogate the shapes of power it enacts.
After 4 years in the Netherlands with OMA, during which lina took part in rehabilitation projects, a survey of service management in the post-covid world of retail and set design and fashion shows for Prada and Offwhite, she returned to Morocco. She works in projects in various areas of Morocco, each dealing with a local craft that is challenged.
After working with Lina Ghotmeh — Architecture and Moreau Kusunoki on construction sites for 3 years, paule now lives between Paris and Switzerland to teach and develop research projects at HEAD — Genève and EPFL, around the mutual influences between space and bodies.
Since 2020, they meet as minor to develop projects at the intersection of their mutual interests. In October 2022, they finalized the scenography and curation of the 'Des corps dans la ville. architectures, feminisms and built spaces' exhibition at the Maison de l'Architecture en Île-de-France in Paris. They are currently building a guest house in Moulay Bouzerktoun in Marocco, questioning the future forms of local tourism in our ending-resources world. In February 2023, they taught a workshop at HEAD — Genève in the interior architecture department, around the bed as a performative device that has been both narrated and performed through our Western culture as a place of controlled intimacy. minor pursues this project through design research with the hope of shaping its outcome into a publication.
---
You've made your bed questions the normative, collective, and political matrices of our built environment, and the control it exerts over the bodies that inhabit it. The bed, an essential device in our Western daily lives, can be looked at as a place of intimacies, vulnerabilities, and asperities. Yet it is sculpted by dimensions and material properties that define the spatial conditions necessary for the everyday performativity of the normative intimacy. Mostly produced following a strict normative structure, the bed is requisitioned in the construction of Western imageries and imaginaries of the hyper-sexualization of heteronormative bodies and their so-called feminine or masculine characteristics.
During a 5-day workshop at the interior architecture department of HEAD — Genève, we approached the bed as a device for performative explorations, a stage for gender norms, which 14 students with various backgrounds tend to thwart. Through non-exhaustive iconographic research, we proposed a typological approach: the shared bed, the gaze bed, the productive bed, the pharmakon bed, the disciplinary bed, the political bed, and the dream bed, to show the mutual influence between the inhabiting body and the material device that frames its lived experience. The documentation, conceptual exploration, and subversion of each of these typologies helped students to both identify and play with the performative matrices that underpin our Western domestic spatial structures.
Through this methodology, the hope is to construct architectural tools that enable us to take control over our own spatial experience, our own subjectivities and the material conditions that built them.