LAMA – Architecture Magazine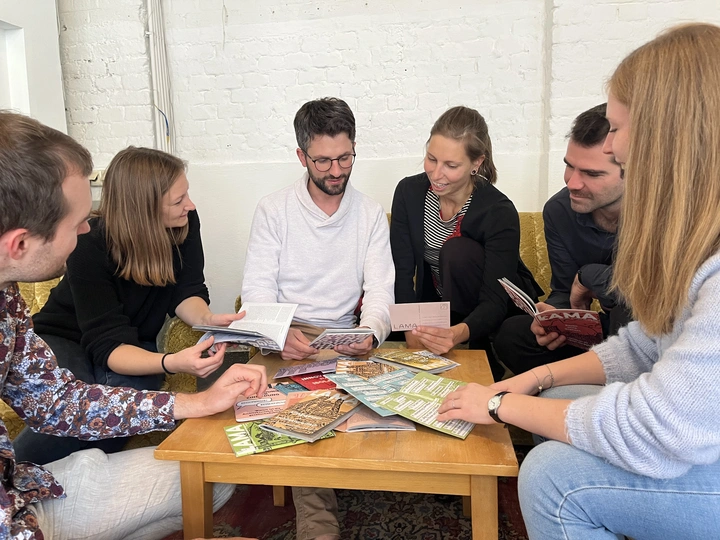 LAMA is an interdisciplinary communication platform in the field of architecture, social science and environmental issues for a better future.
---
LAMA. Solution-Oriented Architecture Magazine
Graz, Vienna, Dornbirn (Austria). Bolzano (Italy)
Links
Team members
Christina Blümel
Isabella Fuchs
Philipp Glanzner
Ramona Kraxner
Felix Obermair
Eva Schmolmüller
Field of work
Architecture, Urban planning, Curating, Communication, Research
Project category
Raising awareness
Project submitted
2023
LAMA is a group of currently six architecture graduates and students based in Austria and Italy. Founded in 2019, its goal is to elaborate and support a critical network in practice and discourse of architecture. LAMA is a acronym for "Lösungsorientiertes Architekturmagazin", that roughly translates to "solution-oriented architecture magazine". In an initial run of ten issues, LAMA evidenced current problem areas of architecture in teaching, practice and discourse. Various experts with different academic and non-academic backgrounds in disciplines such as psychology, sociology and history contributed to the magazine, highlighting possible solutions. This unique interdisciplinary approach already gained much attention and appreciation in the German-speaking world.
The individual interests of the LAMA members evolved into a wide range of different professional activities. Felix works at a publisher in Bolzano and is trained in theatre pedagogy. Ramona is an architecture journalist and writer, as well as being a teacher and researcher at the University of Technology Graz. Eva is a social worker and architect in Vienna. She also teaches "universal design" at the University of Arts in Linz and curates exhibitions exploring models of intergenerational living and care. Philipp is the head of equipment and costumes at Schauspielhaus theatre in Graz. Isabella and Christina work in the practical area of architecture in small studios founded by young architects. Both share a huge dedication to high-quality spaces. Founding member Andreas added his professional experience of accessibility and inclusive work until recently. This diversity of approaches to architecture shapes our understanding of architecture communication and the importance of working across disciplines.
After four years of working on LAMA, our energy and passion still drives us to actively search for further possibilities for change, ultimately establishing a modern responsible architectural practice.
---
Since 2019 LAMA has created an interdisciplinary exchange to support low-threshold communication on architecture and space. Founded to achieve changes in architecture teaching and practice, contributions for 10 printed issues were collected, discussed and publicly reflected in a process, which created content beyond the written word. Each printed issue dealt with one of the three fields of teaching, practice and discourse, and examined the status quo, the target state and the implementation of the findings. In times of fast-paced architectural production and shifting digital communication, LAMA is a handy print medium, which enables the readers to make use of and to reflect on the magazines' topics (e.g. needs in teaching or practice). The connection to digital communication is created via social media and reaches a young, international and diverse audience.
LAMA strongly believes that architecture nowadays is an open discipline with the key responsibility of reflecting on built space as well as (non-)building in the climate crisis – parting ways with solely profit-oriented space production, heading towards responsible use of resources, labour and climate-focused education. The analysis of the status quo created the basis for visions of the future development of architecture. Also, solid proposals were contributed on how to establish new ways of building, communicating and teaching.
With the knowledge acquired so far and with the help of an intergenerational and cross-disciplinary network, LAMA currently is working on a handbook for a future-oriented architecture communication. This publication aims to facilitate the next steps towards a society-building architecture communication. It will reflect the findings from the magazine series and will also collect new expertise to conquer the main problems of modern architecture communication – together with the LAMA community – in an open process.