Architecture is Climate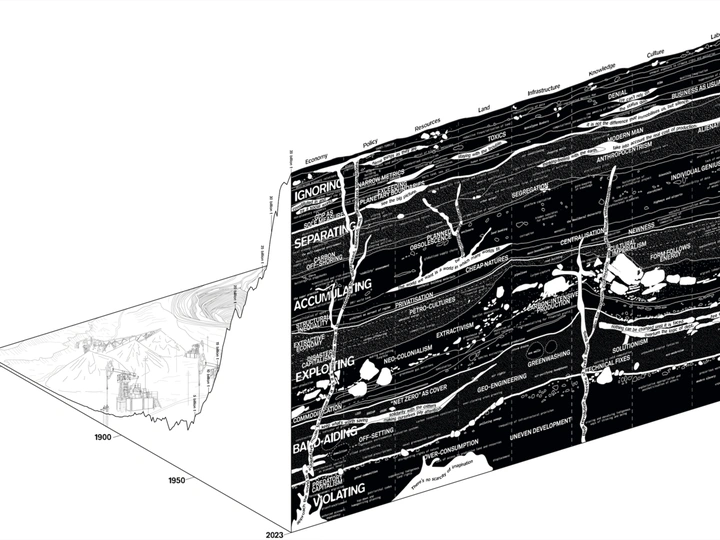 Our joint research asks: What happens to architecture after the climate crisis undoes its foundational assumptions of growth, extraction and progress?
---
MOULD
Braunschweig, Germany
Links
Team members
Sarah Bovelett
Anthony Powis
Tatjana Schneider
Christina Serifi
Jeremy Till
Becca Voelcker
Field of work
Architecture, Ecology, Research
Project category
Energy
Project submitted
2023
Mould is a research collective working at the intersection of spatial practice and climate breakdown. It was formed through a collaboration between Central Saint Martins in London and TU Braunschweig as part of the AHRC DFG funded project "Architecture after Architecture" (2020-2023). Mould is considered a regenerative growth collective, where all members share equal responsibilities and contribute to the research through different mediums, regardless of their professional positions, producing common open-source outputs.
The group has established close international collaborations with a wide range of practitioners, economists, sociologists, artists, and journalists through encounters and workshops. Additionally, they have an external group of critical friends (or advisory group) that provides critical responses and helps address blind spots in their work. Mould has already gained international attention, receiving invitations to contribute to the 2023 Venice Architecture Biennale catalogue and the e-flux/Jencks Foundation chronograms project.
---
Our premise is that living with the climate breakdown demands systemic change across economic, behavioral, and social structures, with profound implications for approaches to the built environment and spatial production. For too long, architecture has stood outside climate, viewing it as a problem to be fixed through technocratic intervention. Architecture, as part of the modern constitution, carries a dualistic view of the world: humans and non-humans, nature and technology, culture and science. However, what if, as Latour argues, we have been completely wrong? What if this polarity has never existed? Architectures and climates are not separate entities brought together in orchestrated moments. Instead, they are conditions that are produced through one another. Without the pretense of a stable discipline producing fixed objects, architecture becomes part of a febrile and disrupted world, vulnerable to its contingencies.
What if, instead of asking what architecture can do for climate breakdown, one reverses the question and asks: what does climate breakdown do to architecture?
Through this research project, we move from skimming off the symptoms to understanding the causes – the various ways in which the operations of the modern project have contributed to climate breakdown. By understanding the causes, one can effectively intervene and disturb the structures that have caused ecological collapse. Therefore, we have compiled a huge database of practices and pioneers who have, in their own way and with hope, confronted the causes of climate breakdown, forming "spaces of slippage". These spaces create new relationships with space, time, and work that undermine the violence of all the extractive actions. We see this database as a laboratory that provides us with ways of thinking about the future and understanding the world in a constant process of fixing, reconfiguration, and reassembly.